WILLIAMSPORT -- All it takes is a click of the mouse to make a purchase these days. Shopping online has become an easy way to buy and sell. Police in Williamsport know people try to sell just about everything.
"We received literally almost 300 messages, identical messages bringing this to our attention," said Williamsport Police Captain Jody Miller.
It all started last Sunday. Tanya Keenan uploaded a picture of her access card to "Williamsport's best-selling site" on Facebook. Since then the post titled "My Food Stamps At Half Price" has been shared hundreds of times.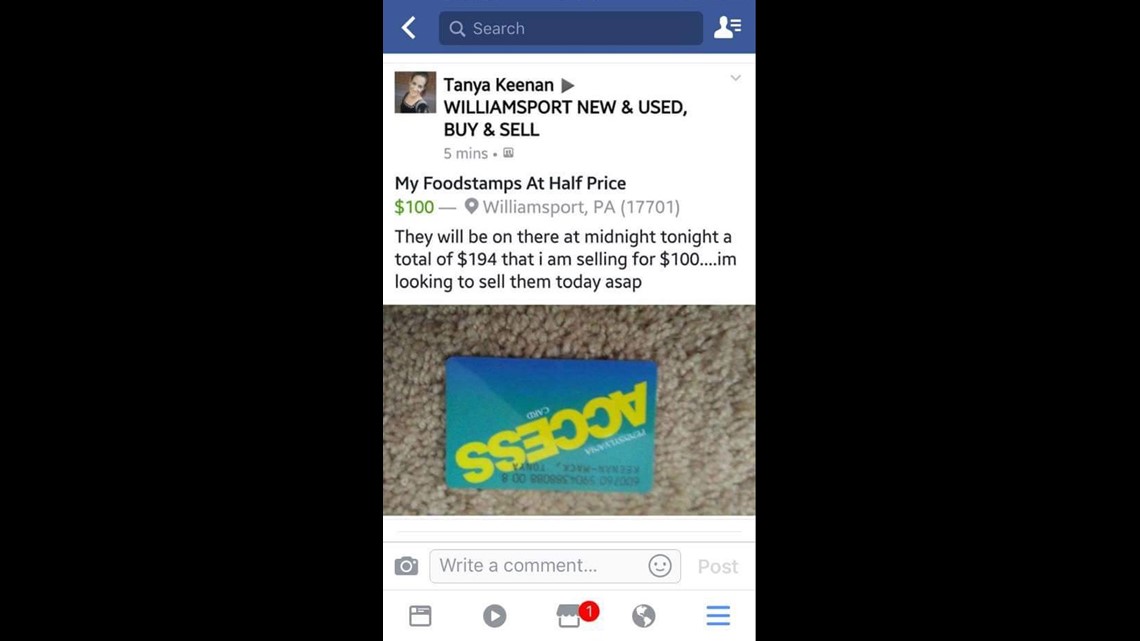 "They were looking to get $100 cash for the card," Miller added.
People sent it to police not because they wanted to buy Tanya's Access Card, but because they were afraid what she was doing was illegal.
"This is the first time to my knowledge someone actually posted a "for sale" for their benefit card," said Miller.
Williamsport police tell us selling your Access Card for cash could be considered welfare fraud. Tanya Keenan was arrested Monday on an unrelated probation violation. She was charged with forgery back in October. Right now, there are no charges filed because of the Access Card post, but there is an investigation going on.
"I think they are abusing the whole system," said Barbara Bennett.
"People need to stop selling their food stamps," said Devin Hoffman.
Several of the folks eating a free lunch at Sojourner Truth Ministries have an Access Card.
Last year, the office of the inspector general saw about 500 cases where people traded their Access Cards for something else.
"I don't think they want to sell their food stamp card just to pay their bills. I think they want to sell their food stamp card for drugs," said Hoffman.
Keenan has not been charged for her post on social media, however she is in jail and expected back in court next week because of her probation violation.