About WNEP
WNEP History

Television stations today are technological marvels. Computers, digital components, transmitters of unimagined power, and machines that can make anything we dream a reality. We thought it would be interesting to look back, and see how it all began.
Five Stations started it all
WILK-TV signs on. The Governor of Pennsylvania, the Mayor of Wilkes-Barre, and other dignitaries join WILK-TV owners Thomas Shelbourne and Dr. Roy Morgan.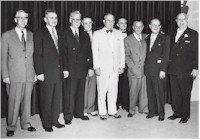 The Scranton/Wilkes-Barre TV market was born on January 1st, 1953 when WBRE-TV signed on the air at 3pm. With this first signal the race was on. Six months later WDAU-TV in Scranton, signed on.
Three months after that, on September 16th, 1953, WILK-TV hit the air. In January of 1954, WARM-TV owned by a group headed by Former Governor William Scranton began broadcasting.
Last, and as it turned out, least, was WVUE-TV from Scranton. WVUE-TV lasted only 9 months before it ceased operations and its license was bought by WDAU-TV. It would be 20 years before another station would be added to our market.
Typically, the stations in the market operated from 3pm until midnight. On the day that WILK-TV signed on, they were scheduled to begin the festivities at 2pm….getting the jump on the other two operating stations. But the whole thing almost never took place.
The engineers working on the transmitter had the signal up and running by noon of that day, so they went to lunch.
At lunch they asked the restaurant owner to turn on the TV, so they could see the test signal and how it looked….it looked good. About an hour before the ceremony, they looked up from their lunch and saw snow on the screen! Skipping lunch (and paying) they rushed back to the tower and managed to re-establish the signal at 1:50 pm.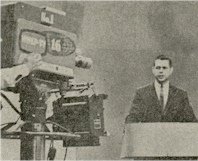 WNEP-TV News Anchor Bob Carroll in 1966 (photo courtesy The Scranton Times)
Putting a station on the air was simple. Getting a network signal from New York to Scranton was hard. Back then you couldn't just pick up the network signal off a satellite. The engineers of the station had to make it up as they went along. Often using hand-made equipment from old radio parts, the engineers came up with "hops", or re-transmissions, from mountain top to mountain top.
They adapted microwaves to carry the network signal from the top of the Empire State Building to a reception tower in Effort, Pa., about 45 miles east of Wilkes-Barre. From there the signal was relayed to Penobscot Mountain, the site of our transmitter. It wasn't the most reliable system in the world, and often the Effort tower had to be re-directed to accept a signal from Philadelphia. Ice and snow at both towers affected the signals and many times the engineer on duty had to climb up the tower and chip the ice off with hammers. Talk about hazardous duty!
Both WILK-TV out of Wilkes-Barre and WARM-TV out of Scranton, were ABC Network affiliates. Since the two stations used the same network signal, they would sometimes share their signal with each other when weather turned bad. But this was hardly a courtesy. Occasionally, the engineer on duty would flash his own station's call letters on the signal sent to the other station. This would make it on the air and infuriate the opposing General Manager.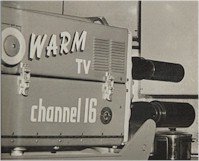 WARM-TV camera used on the show "At Home with Janet" in the 1950s
Networks, also in their infancy, provided little programming for the local stations. Back then networks signed on at 8pm and carried programming until 11pm. Filling the time before and after was up to the local station, and WILK had plenty of ideas. Cooking shows with local women, kid shows after school, local politicians, and any kind of game show imaginable all took turns filling time and attracting viewers. In those days not many people watched television, so the shows didn't have a lot of money to work with. Often two or even three different programs would use the same set, and everybody helped put on the show. A big break for local television came with the McCarthy hearings on un-American activity. The hearings introduced television to people in many ways and led to higher ratings even after the hearings were over. People began to get in the habit of watching TV.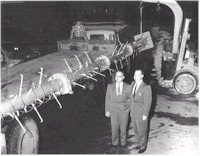 WNEP-TV "One Million Watt" Transmitter Antenna about to be raised in 1958.
Two years later (1958) WNEP-TV introduced the "one million watt" transmitter signal. This greatly improved reception for many viewers and led to a ratings jump for WNEP until the other stations caught up. It also led to promotional visits by such notables as Ronald Reagan, whose "college bowl" program was a big hit of the time.
Ratings
Ratings have always been the way to determine how the stations are performing. In Scranton/Wilkes-Barre, the ratings game has been a roller-coaster. Naturally, the first station on the air, WBRE led in the ratings through the early 50s, with WDAU closely behind. In fact, those two stations fought back and forth for supremacy through the 1950s. In late 1959, WNEP took the lead in ratings due in part to strong ABC programming. The first ABC color telecasts, in 1959, were two cartoon programs: "The Jetsons" and "The Flintstones". WNEP also started the tremendously popular "Hatchy Milatchy" children's program. This program would stay on the air for over 30 years.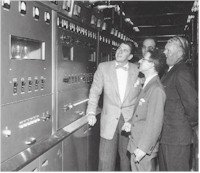 Then TV star Ronald Reagan visits WNEP-TV.
In the relatively new area of half-hour local news, WNEP was solid, moving from first to third, and then back to first before settling on second in 1962. As a result of the ratings boost, and the revenue that came along with it, WNEP-TV moved in late 1962 from its Downtown Wilkes-Barre offices to a new studio at the Wilkes-Barre/Scranton Airport. The move signaled that WNEP was neither a "Scranton station" nor a "Wilkes-Barre station", it was a station that would serve all of Northeastern and Central Pennsylvania.
In 1964, Taft Broadcasting from Philadelphia bought WNEP from Transcontinental. The station continued to do well in the overall ratings, but slipped in news ratings to #3 by the late 60s.
Breaking ground on the new WNEP-TV studio located near the Wilkes-Barre/Scranton Airport.
In 1973 Taft Broadcasting bought a station in Philadelphia, and a Federal law required them to sell WNEP. A group of 10 employees, including one of the original owners, formed "NEP Communications" and bought WNEP-TV. The "new owners" were not happy being #3 in news ratings, so they used a spending and technology splurge to turn WNEP into a ratings tornado.
In 1976 the first on location "LIVE" shot was broadcast during the news.
In 1977 the first videotape cameras are used.
In 1978 WNEP took over as #1 in ratings for News and programming (an honor it holds to this day).
In 1979 the "Supershooters" were born. These tractor-trailer style trucks contained all the studio necessities to broadcast live from anywhere. These were the beginning of today's "Mobile Newsrooms".
Also in 1979 the first Skycam 16 was put into service giving viewers a new perspective on the news.
In June, 1984 WNEP purchased a new, bigger Skycam 16.
And in March, 1985, Newswatch 16 became the "Highest Rated" local news program in the country.
From its beginning as two small, independent television stations, WNEP has grown into one of the finest News organizations in the country. And while this report outlines the changes in WNEP's history, it does not tell the history of all the people who made WNEP one of the finest News organizations in the country. From 15 employees at WILK-TV to over 120 employees today, WNEP's successful history will continue to grow every time people like you tune in to "The News Station".
About TEGNA
WNEP is owned and operated by TEGNA Inc., an innovative media company that serves the greater good of its communities. Across platforms, TEGNA delivers relevant and trusted content by telling empowering stories, conducting impactful investigations and providing innovative and unparalleled solutions for advertisers through TEGNA Marketing Solutions. For more information, visit www.TEGNA.com.
Mission and Coverage Priorities
MISSION
TEGNA's purpose is to serve the greater good of our communities.
We will provide the news and information that people need to function as effective citizens.
We will seek solutions as well as expose problems and wrongdoing.
We will provide editorial and community leadership.
We will seek to promote understanding of complex issues.
We will be advocates for our communities.
DIVERSE VOICES
At TEGNA, you will find people from all backgrounds, interests and abilities, united by a common purpose to make a difference in our work, our company and our community.
We are committed to making editorial decisions with input from a variety of voices that reflect our community. We seek sufficient understanding of the communities, individuals and stories we cover to inform the public. We are persistent in pursuit of the whole story.
DIVERSITY STAFFING REPORT
At TEGNA, we believe that attracting a talented and diverse workforce is one of the keys to our success. We strive to create for our employees an environment which offers professional and intellectual challenges, which encourages innovation and creativity, and which rewards success and effective teamwork. Read our latest EEO Diversity Report.
Ethics, Standards and Practices
ETHICS
TEGNA is committed to the highest ethical standards and dedicated to the principles of truth, independence, fair play and integrity. These principles apply to everything we do, from gathering content to reporting and producing content. Read TEGNA's Principles of Ethical Journalism.
TEGNA journalists observe the following principles:
INDEPENDENCE
We will remain free of outside interests, investments, business relationships or personal relationships that may compromise the credibility of our news reports.
We will seek to avoid potential conflicts of interest and promptly disclose any that arise.
We do not accept gifts, meals or entertainment from any individuals or organizations that may be covered by our stations.
We do not allow sponsors of news to determine, change or restrict content.
We do not make political contributions, participate in political advocacy or publicly share political views.
TRANSPARENCY
We are transparent about paid or sponsored content.
We clearly identify and differentiate commentary from news.
We will explain our journalistic processes to our audience.
PUBLIC INTEREST
We will uphold and defend the First Amendment.
We will be vigilant watchdogs of government and institutions that affect the public.
We will fight to insure the public's business is conducted in public.
FAIRNESS
We will treat people with dignity, respect and compassion.
We will be fair with people unaccustomed to dealing with the media. (*)
We will seek all sides relevant to a story.
(Also diverse voices)
INTEGRITY
We will act honorably, transparently and ethically in dealing with news sources, the public and our colleagues.
We will obey the law.
We will not skew facts, distort reality or sensationalize events (ETHICS).
We will not manipulate images or sound in misleading ways.
We will not present images that are reenacted without informing the audience.
We will use hidden cameras or similar techniques only if there is no other way to tell a significant story effectively, and only with news management approval.
We will respect the copyrights of others.
VERIFICATION & FACT-CHECKING
We report the news accurately, thoroughly and in context on all platforms. We vet sources, verify facts and challenge assumptions before reporting news. We hold factual information on all platforms to the same standards of accuracy.
We are honest. We do not mislead sources, story subjects or the public.
We attribute information received from others, and we are transparent with sourcing. We do not plagiarize.
We do not misstate our identity or intentions. We keep our word.
We do not intentionally slant the news.
We value being right over being fast.
UNNAMED SOURCES
We will use unnamed sources as the sole basis for reporting only as a last resort when it best serves the public's right to know, and only with prior news management approval.
CORRECTIONS
We will make corrections promptly and proportionate to the original reporting.
CONTACT US
MASTHEAD/EDITORIAL LEADERSHIP
Click here to meet our Editorial Leadership team
ACTIONABLE FEEDBACK
We value feedback from our community, including story ideas as well as comments and corrections on our coverage. Click on the appropriate link below to route your feedback to the correct team in our newsroom.
NEWSROOM CONTACT INFORMATION
Trust Project Participation
TEGNA is proud to be a participant in the Trust Project. The Trust Project is an international consortium of news organizations collaborating to use transparency to build a more trustworthy and trusted press. For more information visit https://thetrustproject.org/.
For all content licensing inquiries, please contact our representatives at TEGNA@nimia.com.