Advertise
Click here to contact a member of our sales staff
---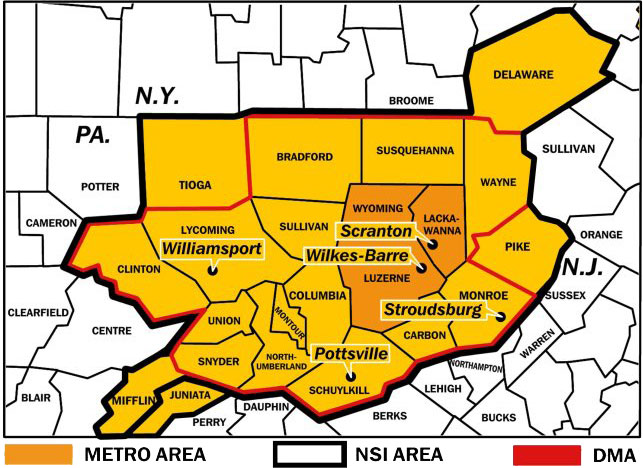 MARKET PROFILE
Wilkes-Barre/Scranton is located in the foothills of the Pocono Mountains, approx. 125 miles from New York City and Philadelphia.
Market Rank is 60 out of 210 markets
Metro TV Households   183,270
DMA TV Households    481,390
NSI TV Households     546,730
Cable penetration 54%
Alternate Delivery Systems 37%
Effective Buying Income of over $29 Billion
There are 23 Colleges and Universities in our DMA
Many Fortune 500 Companies are located in our DMA
Northeastern and Central Pennsylvania is experiencing a retail renaissance
Tourism is our fastest growing industry with three professional Minor League teams, huge entertainment venues, ski resorts and racetracks.
Technology is becoming a major force in our local economy
---
WNEP-TV COMMERCIAL PRODUCTION DEPARTMENT
Our goal is to create the most effective, memorable and successful commercial to sell your product or service. No matter what your budget, WNEP-TV can provide you with a quality, outstanding commercial.
NEWSWATCH 16 RATED #1 FOR MORE THAN 30 YEARS!
Every Newswatch 16 Newscast is #1 in its time period. Newswatch 16 at 6PM has been honored several times as the nation's #1 Local News. As the most watched, most trusted, most powerful Local News Station, we are committed to all of Northeastern & Central Pennsylvania. Our credo "PROUD TO SERVE" includes "everyone" which is demonstrated by a dedicated staff of reporters who cover stories in outlying cities and towns, not just the easy to reach metro. Our sports anchors also cover local events, and travel the market to the many high schools and colleges throughout Northeastern & Central Pennsylvania. Every story matters to WNEP-TV's Newswatch 16!
43.5 HOURS OF NEWS PROGRAMMING PER WEEK!
We air more live half hour Local News Programs than the competition. Newswatch 16 is also available on various cable outlets and on demand on WNEP.com. News when you want it! Anytime you want it!
A POWERHOUSE ABC AFFILIATE
WNEP-TV also airs the highest rated Good Morning America in the country!
WNEP.com
Nearly 24 million Page Views per month on Desktop, Mobile and App platforms.
WNEP.com is the region's leading provider of news and information online.  We dominate the market and remain on the cutting edge of technology.  We were:
First commercial television website in the state of Pennsylvania
First in the market to offer news and weather online
First to offer breaking news online
First to post school closings online
First and only to send school closings via email
First to offer streaming video
First and only to feature blogs
All of this makes WNEP.com the most visited news and information website in Northeastern Pennsylvania
---
Online Credit Application
Click here for our credit application to get started.
Advertising Terms and Conditions
Your purchase of any broadcast or online advertising is subject to TEGNA's standard advertising terms and conditions, which are available here.