SUGARLOAF TOWNSHIP -- A driver in Luzerne County had quite a surprise as she traveled Route 93 on Wednesday evening: out of nowhere, a deer came barreling through the window and ended up inside the car.
Even first responders didn't believe it when a woman said a deer went through her windshield and ended up inside the car, but when they pulled up to the scene, there was a 100-pound doe in the back seat of a Toyota Corolla.
You may have encountered a deer running in front of your car. Dash cam video from the Sugarloaf Township police department a few years ago shows a similar close call.
But this week, a woman driving on Route 93 near Conyngham wasn't as lucky as that cop.
Her car is damaged after an unusual collision with a deer.
Sugarloaf Township Rescue Chief Joshua Legg was the first responder to arrive.
"Seeing the characteristics of how the roof and the windshield looked, it was a dead giveaway this was not going to be a normal deer versus car situation," said Legg.
That doe ended up going through the passenger side of the windshield and landed in the back seat.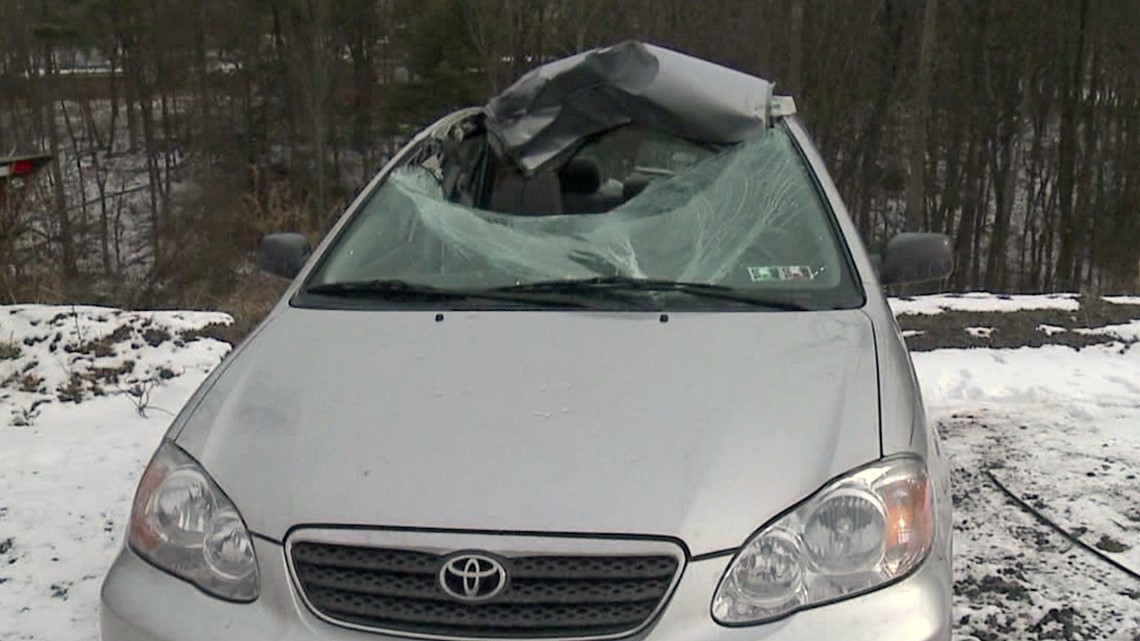 Police say the driver only had minor injuries.
After seeing the shattered glass and the damage, crews couldn't believe the woman was OK.
"Words cannot actually describe it. she Is the luckiest person on this earth right at this time because that deer could have very well killed her," Legg added.
Rescue crews think that deer may have jumped off an embankment, so the impact, combined with the moving car, is likely how the deer ended up all the way in the back seat.
"We just had a Powerball; it was kind of like hitting the lottery."
The Sugarloaf Township police chief sees cars hit deer all the time, although he's never seen one land in the back seat.
His advice: slow down and pay attention, that's about all you can do.
"Some of the most safe and alert drivers still, it happens and there's nothing you can do about it," said Sugarloaf Township Police Chief Joshua Winters.
Stephanie Parsons owns Studio 93 just about a half mile away from where the incident happened. She sees plenty of deer when she leaves work at night.
"I'm not surprised, there are deer jumping out everywhere. They're all over the road," she said.
Sugarloaf Township police are still investigating the crash and have not released the name of the woman involved.