MOOSIC, Pa. — What's Changed:
First Call snowfall map now included.
Updated thoughts on timing and impacts.

A storm system is expected to develop over the Gulf Coast region on Saturday then impact Northeastern and Central Pennsylvania Sunday evening until early Monday morning. As the forecast stands now, you can expect a period of accumulating snow before a changeover to rain occurs. It's possible some of our higher elevations in Central Pennsylvania don't changeover to rain at all. These areas would see the the highest snow totals. Most of the rain and snow tapers off early Monday morning. Impacts to the Monday morning commute look limited for most areas. Mountain roads could be snowy and slick, especially if the changeover to rain doesn't occur where you live.
A Winter Weather Advisory has been issued by the National Weather Service for all of Northeastern and Central PA. This will go into effect at 3 p.m. Sunday through 7 a.m. Monday.

Prepare for snow and some ice accumulations as a possibility. Plan on slippery road conditions that could impact the Monday morning commute, especially in the mountains.
PennDOT is temporarily restricting certain vehicles on Interstate 81 in Lackawanna and Susquehanna counties beginning at the Interstate 84 interchange in Dunmore on Sunday, January 22nd, at 5:00 p.m.
Speed limits will be restricted to 45 mph on these roadways for all vehicles while the vehicle restrictions are in place, and commercial vehicles not affected by the restrictions must move to the right lane.
Additional speed restrictions on other interstates could be added depending on changing conditions.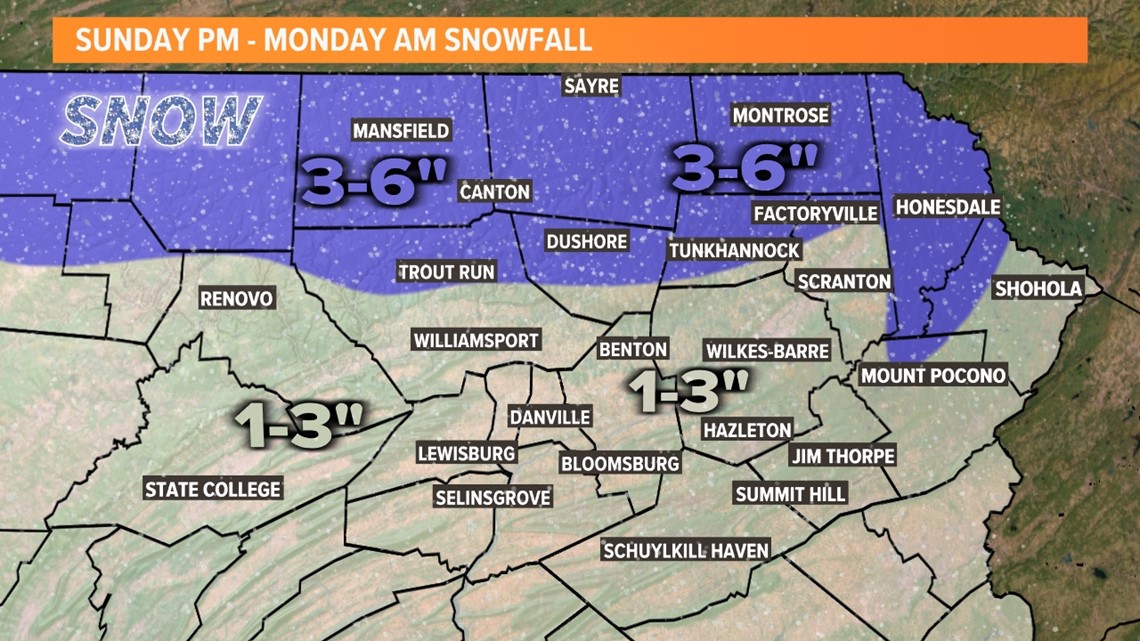 Valleys and areas in the Southern part of our viewing area can expect a general 1-3" of snow. This will be an elevation sensitive storm so the higher totals will be found across the higher elevations. 3-6" of snow is most likely across the Northern Tier Mountains as well as the Endless Mountains. Some locally higher totals of 6-9" is possible in the highest elevations.
It should also be noted that the exact track and intensity of this storm will alter these totals. While it doesn't look likely as of this writing, there's an outside chance that this storm ramps up in intensity more quickly than currently forecast. This would introduce a 6-9" swath of snow across a portion of our area. Again, this looks unlikely, but we're monitoring trends in the data and will keep you updated.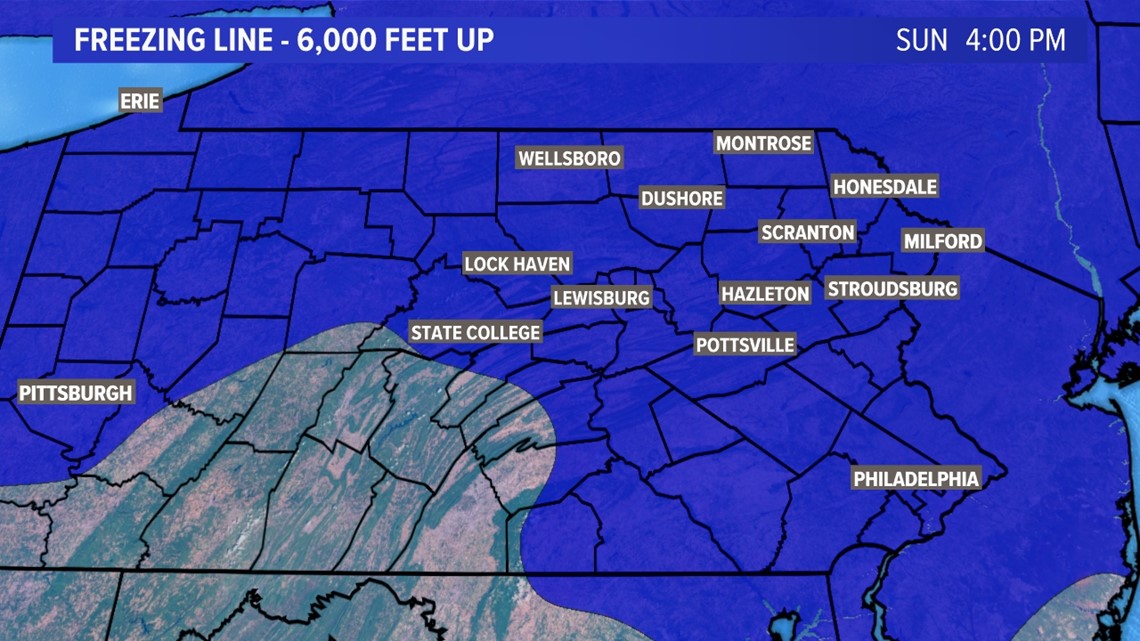 The most critical part to this upcoming storm will be determining not only the surface low pressure system track, but what the temperatures ~6,000 feet over our heads will be like. At first blush, the surface low track is favorable for a decent snow for our area. However, given the lack of antecedent cold air, and the lack of cold air to our north for the storm system to work with, we're on the razors edge of snow vs. rain. Shown above is where we expect temperatures ~6,000 feet overhead to be at or below freezing at 4PM on Sunday. This is when the storm is just getting underway. Figuring out what these upper level temperatures will be like is critical in determining where the rain/snow line will be. It would appear that we'll see mostly snow to start with perhaps a rain/snow mix in the valleys.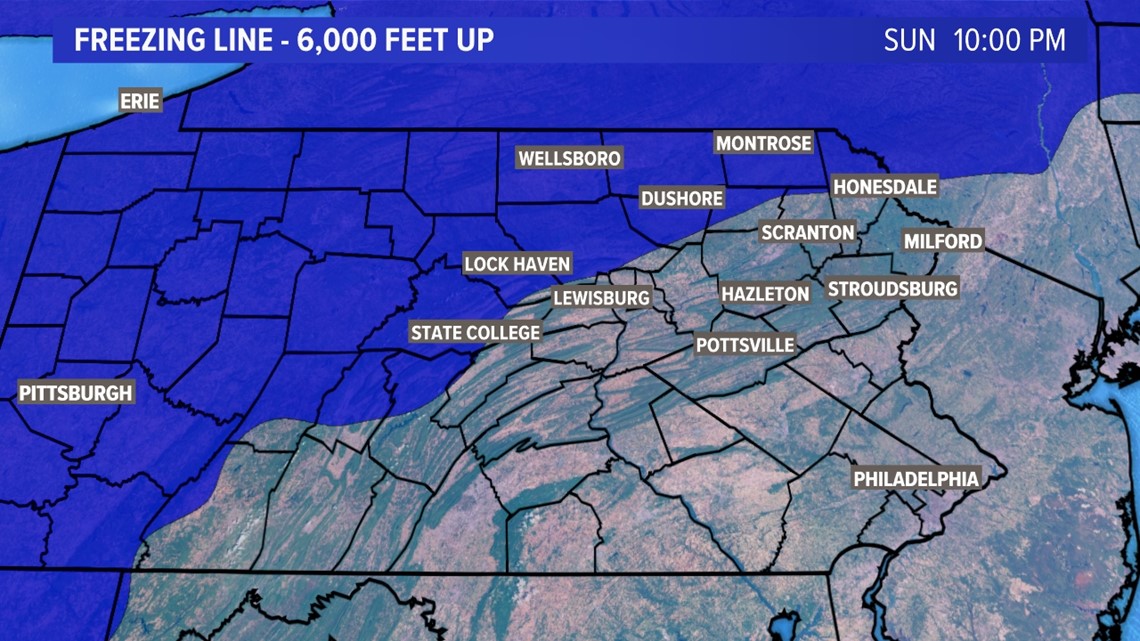 Compare this snapshot of what temperatures will be like at 10PM with the image at 4PM. Notice that warmer air has flushed out the colder air over much of the area. The exception to that could be the mountains of Central PA. That's why we're thinking the higher snow totals will be in those areas. If you don't changeover to rain, and stay all snow, your totals will be higher. Makes sense right?

Expect snow to begin by Sunday evening. It should be fairly light and possibly mixed with rain, especially in the valleys.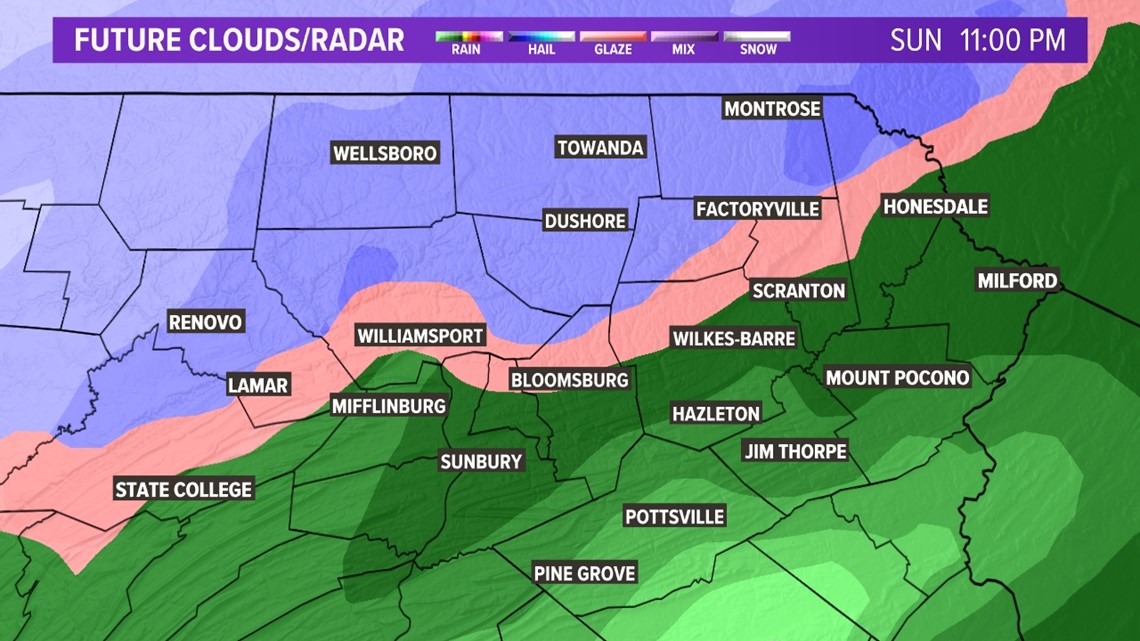 The heaviest precipitation is most likely to fall somewhere between 9PM Sunday and 3AM Monday. We'll also see a transition from snow to rain during this time for a good chunk of the area. Even in areas that see a changeover, we'll likely see some snow accumulate. Areas that stay all snow Sunday night could see snowfall rates close to 1" per hour at times.

The storm winds down Monday morning as a light rain/snow mix.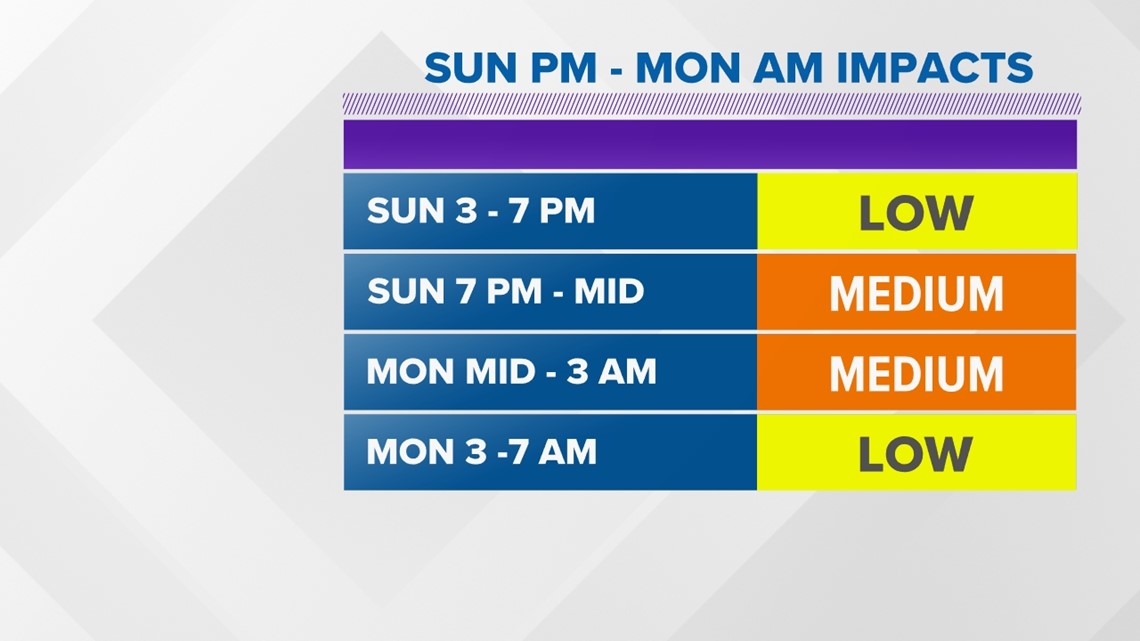 This will be a heavy/wet snow. Areas that see the higher accumulations could see a few power outages. Power outages aren't expected to be widespread as we don't expect it to be particularly windy. Snow removal crews will be busy across the higher elevations Sunday night to get things cleaned up for Monday morning. Travel will be impacted for some Sunday night into Monday morning. The "height" of the storm will be between about 7PM Sunday and 3AM Monday. It's during this time, particularly across the higher elevations, that we could see snow covered mountains roads.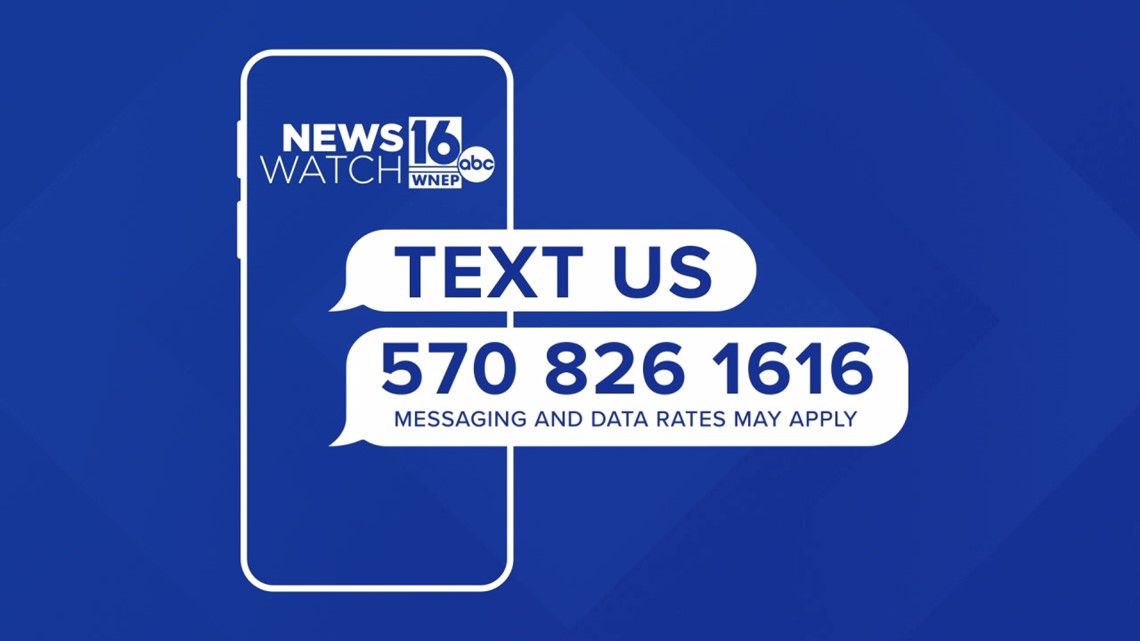 WINTER TIPS: Check out severe weather tips on WNEP's YouTube channel.