As Iota continued to lash Central America on Tuesday, unleashing a deluge of rain in already hard-hit areas of Nicaragua and Honduras, forecasters were already keeping an eye on another tropical threat in the Caribbean. Once again, a budding system could head for Central America.
Iota became the second major hurricane to make landfall in Nicaragua Monday night in as many weeks. Eta made landfall on Nov. 3 in Nicaragua as a Category 4 hurricane on the Saffir-Simpson Hurricane Wind Scale. Just 13 days later, late in the evening on Nov. 16, Iota made landfall as a Category 4 hurricane on Saffir-Simpson Scale just 15 miles north of where Eta had crashed onshore, near Puerto Cabezas, Nicaragua, with maximum sustained winds that were 15 mph stronger.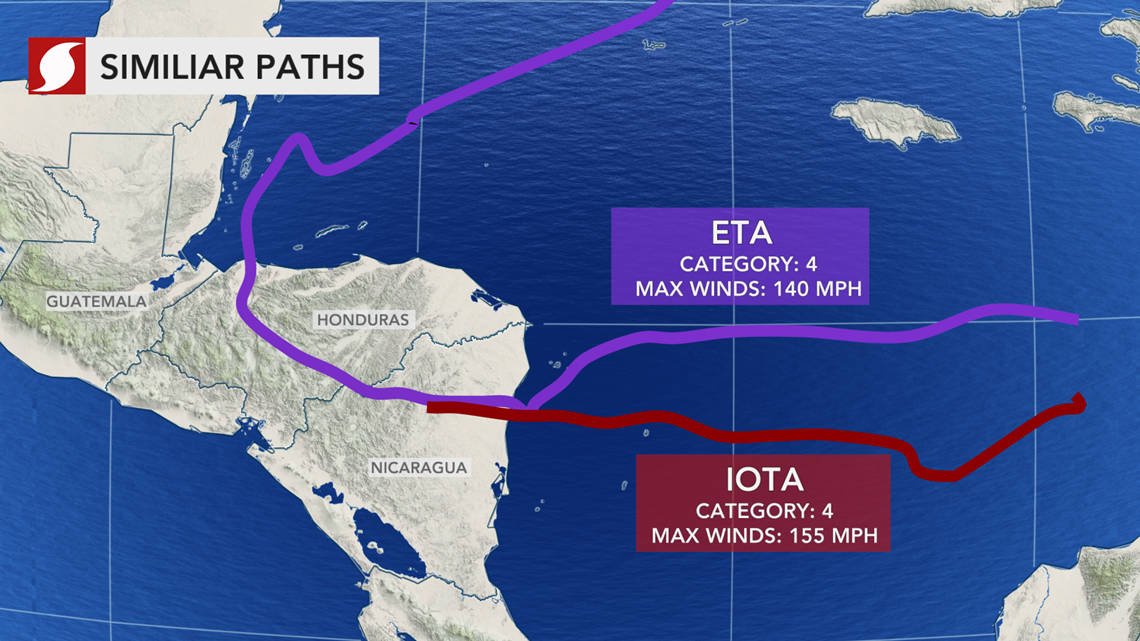 Both Eta and Iota were rated a 5 on the AccuWeather RealImpact™ Scale for Hurricanes, a more comprehensive scale based on a number of factors such as predicted disastrous flooding rainfall and storm surge along with the destructive winds, and the overall humanitarian crisis that is occurring in the region as a result. In comparison, the Saffir-Simpson Scale solely rates hurricanes based on wind speeds.
Back-to-back hurricanes haven't struck the region for nearly 50 years until Eta and Iota this season.
After striking Central America, Eta took a turn back to the north, meandering back through the western Caribbean and eastern Gulf of Mexico. In total, Eta made four landfalls, including one in Nicaragua, one in Cuba and two in Florida before the storm eventually dissipated over the western Atlantic. Many may be wondering whether Iota could follow suit after watching Eta's long and erratic path unfold.
Forecasters say Iota will not follow in Eta's footsteps and will instead meet its demise over the mountains of Central America during the middle of the week.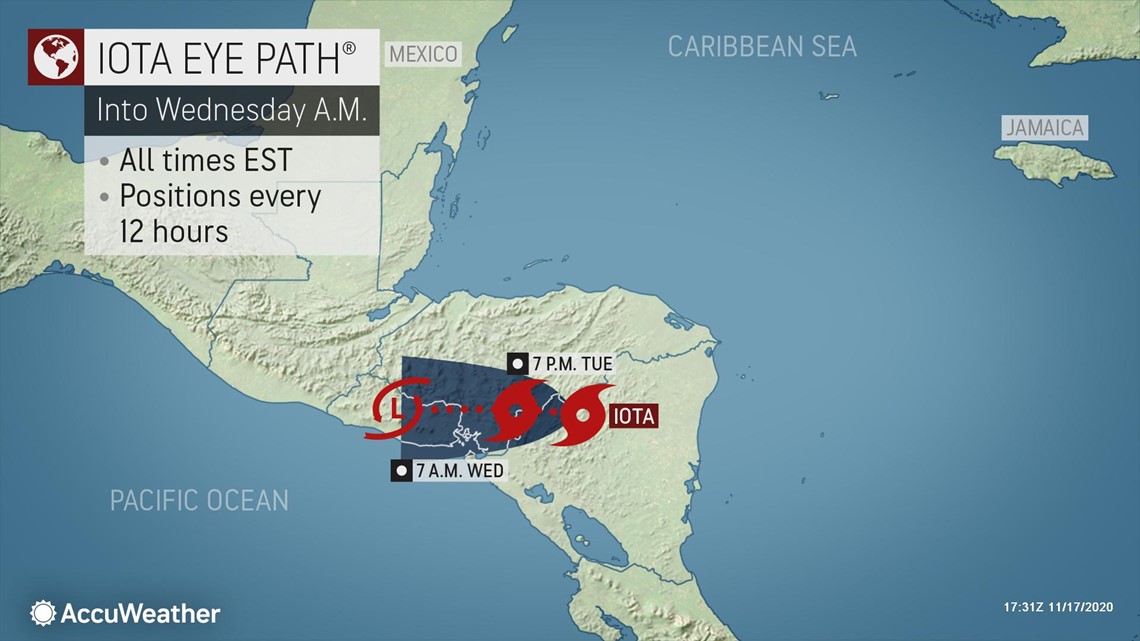 "Strong high pressure across the southeastern U.S., Gulf of Mexico and Mexico will prevent Iota from turning north and redeveloping over the western Caribbean like Eta did," AccuWeather Lead Hurricane Expert Dan Kottlowski said.
"As it moves from west to east across Nicaragua and Honduras over the next couple of days, the mountains of Central America will eventually completely disrupt the circulation of the storm."
A cluster of lingering downpours and thunderstorms from Iota may survive the trip across Central America and emerge in the East Pacific later in the week. However, even in that case, forecasters say Iota is not expected to redevelop as a tropical system.
"Due to the destruction of the core area of low pressure and mid-level circulation, it's unlikely Iota will have any coherent structure left to even attempt to regenerate in the East Pacific," Kottlowski explained.
Even though Iota will meet its end quickly, it still may not be the last threat to hurricane-battered areas of Central America this hurricane season. Yet another tropical disturbance was entering the southern Caribbean Tuesday, and it will track over the same warm waters where Eta and Iota formed.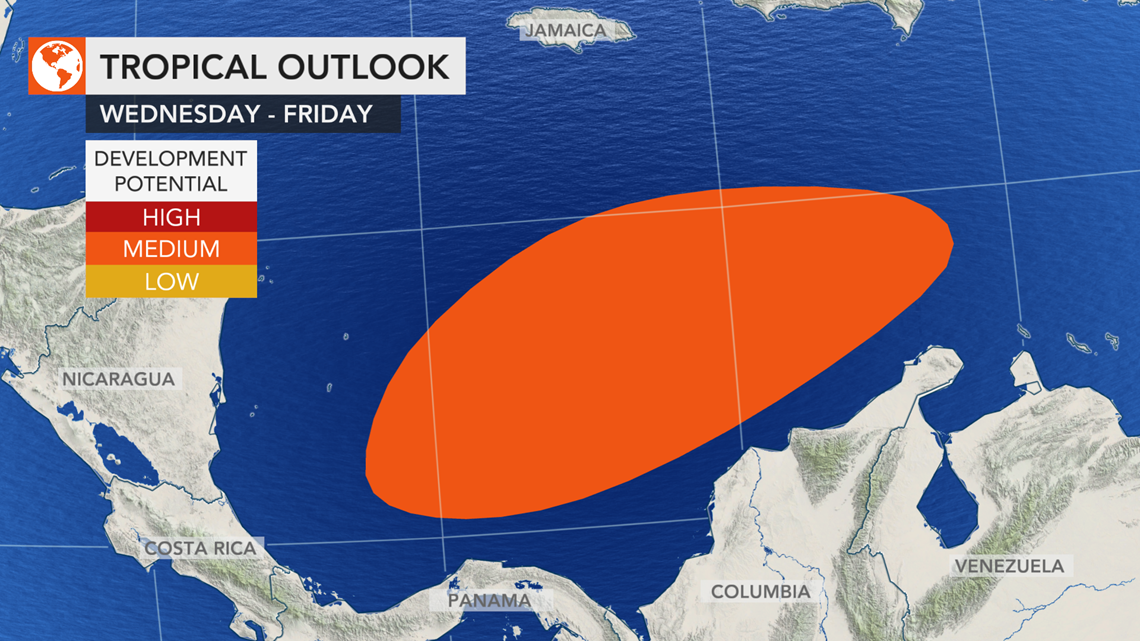 "A tropical wave will track just north of Venezuelan and Colombian coast into midweek, and could slowly develop into a tropical depression in the southwest Caribbean later in the week," Kottlowski said.
"If it does develop, it will likely end up taking a track farther south than Eta or Iota did, more toward the southern Nicaragua or Costa Rica. There is also less support for it to become a strong tropical system."
If it becomes a tropical storm, it will be named Kappa, the next letter in the Greek alphabet after Iota.
Regardless of intensity, it will bring another dose of heavy rainfall to Central America. Parts of Nicaragua and Honduras that bore the brunt of Eta and Iota may escape the heaviest rain from this next feature, but downpours will still be a threat. Given the extreme rain in these areas from Eta and Iota, any additional rain later in the week can compound the disaster unfolding.

Additional flooding and mudslides could slow recovery efforts from the back-to-back major hurricanes and threaten communities already left vulnerable, potentially displacing even more people.
The center of the next disturbance will track toward areas farther south -- in areas that have been bypassed by Eta and Iota's worst in terms of rainfall and winds but that have not been completely unscathed by the storms. Heavy rainfall from both Eta and Iota has reached as far south as Panama at times, leading to localized flash flooding and mudslides as well.
"While they haven't seen rainfall totals as extreme as areas to the north, ground conditions are still saturated in many areas from southern Nicaragua to Costa Rica and Panama," said AccuWeather International Forecaster Maura Kelly. "Additional heavy rain in these areas is likely to lead to more widespread flooding and landslide issues expanding farther south."
With the resources already devoted to the humanitarian relief effort in Honduras and northern Nicaragua, it could become difficult to mobilize enough resources to also provide the needed aid farther south.
But, beyond the next threat, forecasters say there is a light at the end of the tunnel of this seemingly relentless hurricane season.
"After this last disturbance in the southwest Caribbean, conditions look to become much more hostile for tropical development in the Caribbean," Kottlowski said. "The pattern will likely stay that way for a while, and there's a chance we could finally be looking at the end of the hurricane season, at least in the Gulf and Caribbean."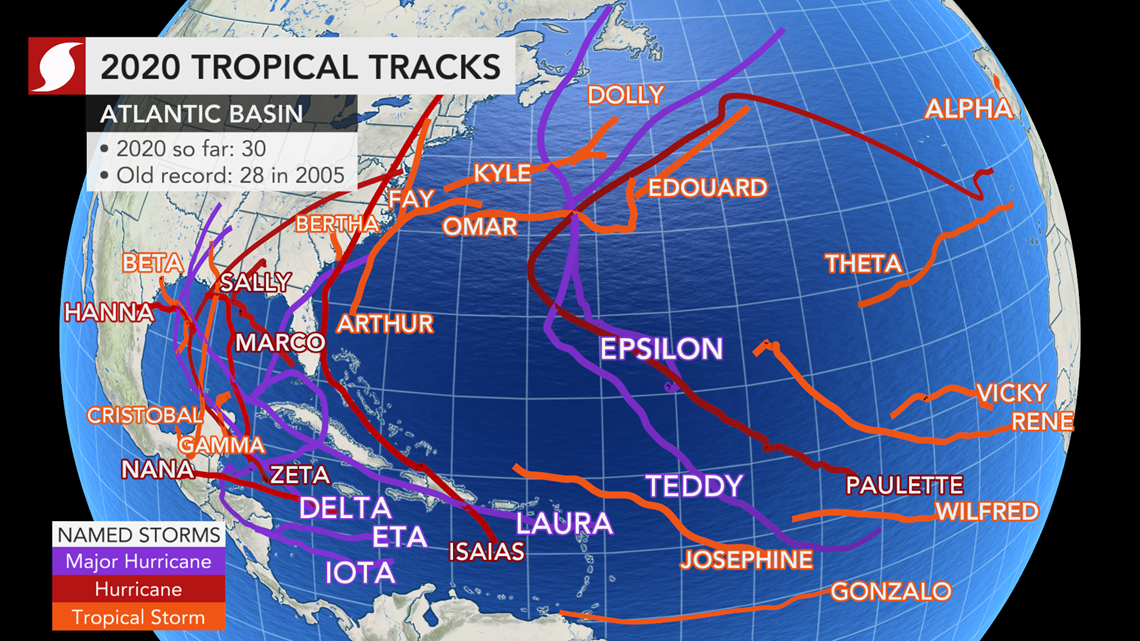 The record-setting 2020 Atlantic hurricane season has set records including the total number of tropical storms, 30, and for the number of landfalling storms in the continental United States, 12. The official end to hurricane season is Nov. 30.