The most powerful hurricane of the 2020 Atlantic hurricane season made landfall in Nicaragua on Monday night and will now deal a catastrophic blow to Central America right on the heels of Hurricane Eta.
Hurricane Iota made landfall along the coast of northeastern Nicaragua at 10:40 p.m. EST on Monday as a Category 4 hurricane. At the time, Iota was packing maximum sustained winds of 155 mph, just 2 mph shy of Category 5 status (157 mph or greater).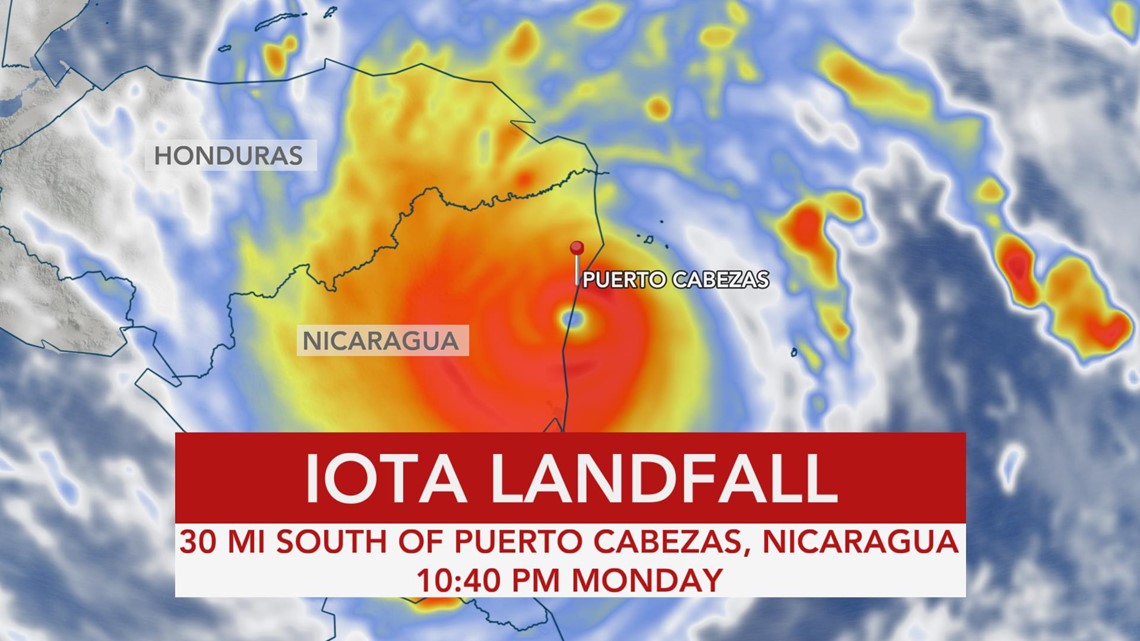 Conditions deteriorated along the Caribbean coast of Nicaragua and Honduras during the day Monday as Iota approached as a Category 5 storm with lashing winds and rising storm surge.
"The situation doesn't look good at all. We woke up without electricity, with rain and the surf is getting really high," Yasmina Wriedt told The Associated Press. Wriedt was in a coastal town near Puerto Cabezas, Nicaragua, on Monday. "Today, I'm afraid again about losing my house and I'm frightened for all of us who live in this neighborhood."
Iota made landfall only about 30 miles south of Puerto Cabezas on Monday night just miles away from the area where Eta made its catastrophic landfall less than two weeks earlier.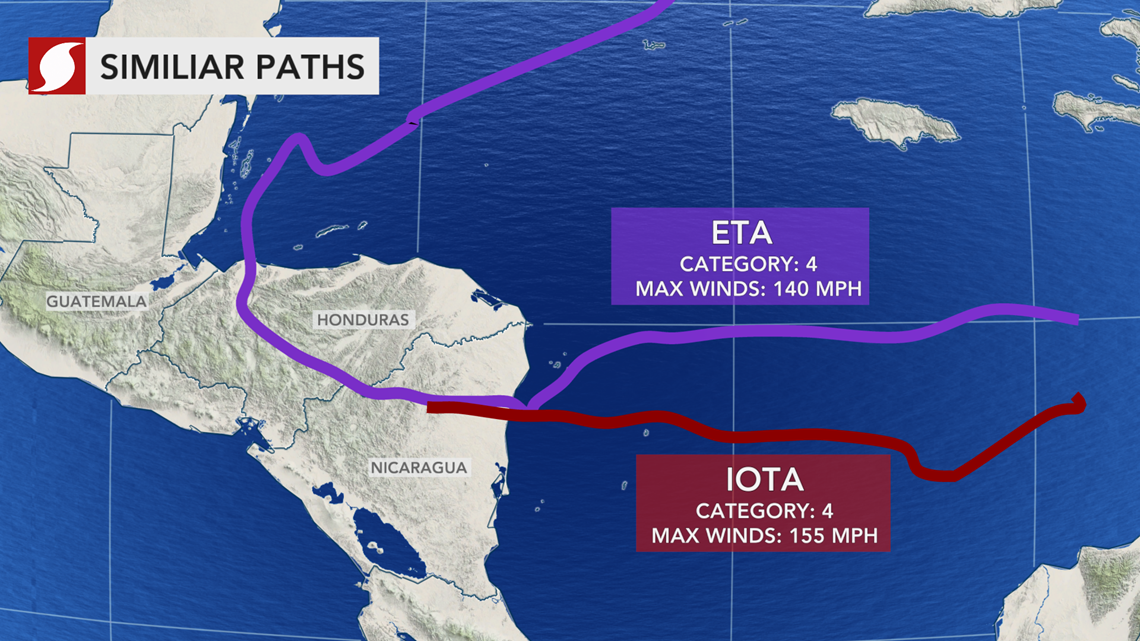 Evacuations had been enacted in some of the low-lying coastal areas of Nicaragua where "unsurvivable storm surge" was forecast to approach 20 feet and in Honduras in areas at the highest risk of flooding. However, fuel shortages were complicating evacuation efforts, Reuters reported.
"Some areas along the coast will be uninhabitable for months," warned AccuWeather Senior Meteorologist Mike Doll.
Sustained winds were whipping at 160 mph Monday evening with higher gusts, according to the Hurricane Hunters that flew a mission through the eye of the storm. Hours before landfall, the center of Iota was situated about 30 miles east-southeast of Puerto Cabezas, Nicaragua, the same area where Hurricane Eta blasted onshore less than two weeks ago.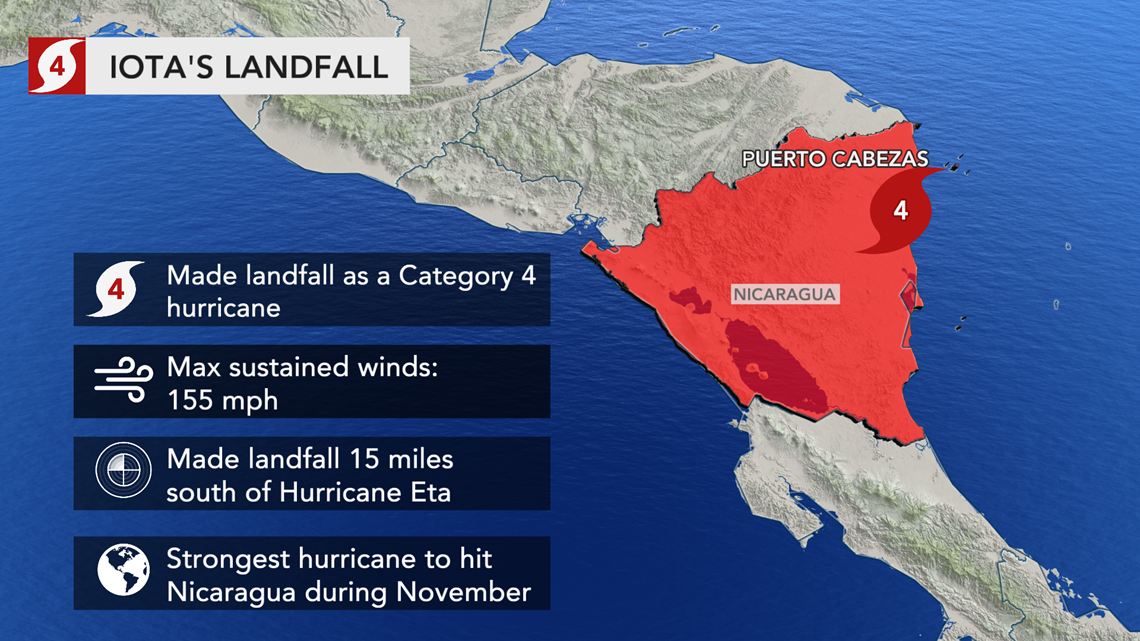 Shortly before landfall on Monday night, Iota lost a slight bit of wind intensity became a strong Category 4 hurricane with sustained winds of 155 mph.
Iota's landfall marks only the second time in history that two hurricanes have made landfall in Nicaragua in one season. The only other time that this occurred was in 1971 when Hurricane Irene and Hurricane Edith crashed ashore.
Before Iota neared Central America, heavy tropical downpours associated with Iota caused significant disruptions in Colombia. Homes were submerged in some communities in northern Colombia, stranding residents on their roofs while waiting for help to arrive. At least three fatalities were been reported in Colombia due to flooding and mudslides.
With Iota reaching Category 5 force on Monday, it makes 2020 the fifth consecutive year in which there has been a Category 5 hurricane in the Atlantic basin. Matthew began the pattern in 2016, and Irma and Maria continued the trend in 2017, followed by Michael in 2018, and Dorian and Lorenzo in 2019. This is the longest streak of consecutive years with a Category 5 hurricane in the Atlantic basin since records began.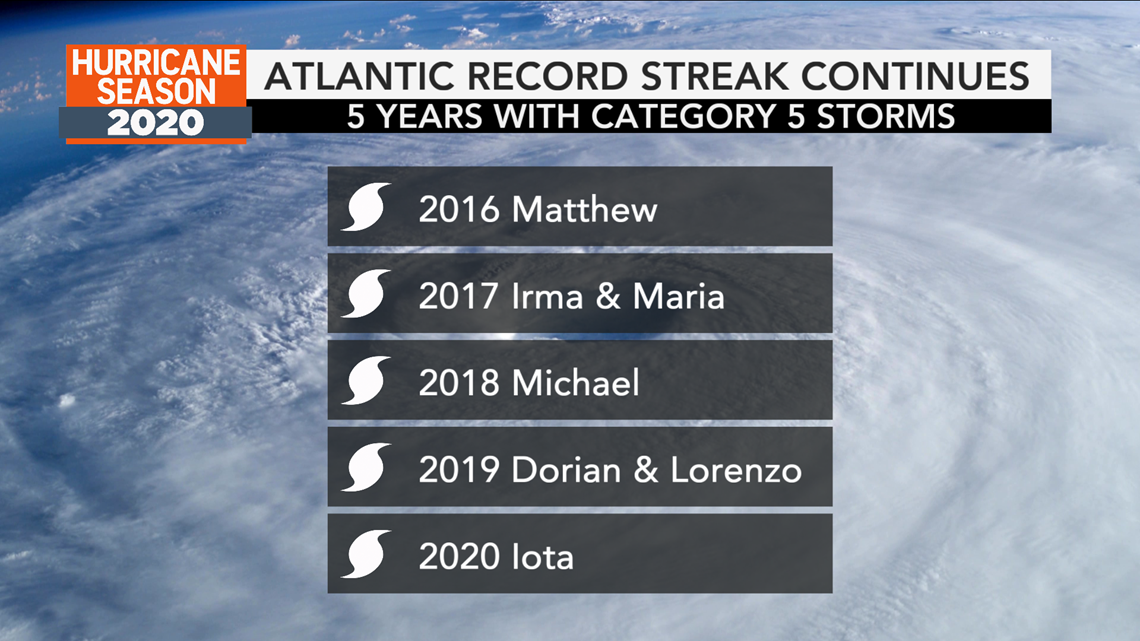 Iota rapidly intensified over a 24-hour period to reach Category 5 status. In this 24-hour window, maximum winds spiked from 90 mph to 160 mph and the lowest barometric pressure in the eye of the storm plummeted a staggering 1.8 inches of mercury (61 millibars). The drop in pressure alone is more than twice what is required for a winter storm to be called a "bomb cyclone," which is usually a drop of 0.71 of an inch of mercury (24 millibars) in 24 hours. This is the fourth time that a hurricane this season rapidly intensified and one of the most extreme intensifications on record, according to meteorologist Sam Lillo.
Iota became the sixth major hurricane of the season, or a hurricane that has reached Category 3 status or greater on the Saffir-Simpson wind scale, and it follows Laura, Teddy, Delta, Epsilon and Eta. However, it is not out of the question that another storm could make this exclusive list before the end of 2020.
"Another tropical wave will enter the southern and western Caribbean later this week and could become another named tropical system by the weekend before heading, once again, for Central America," AccuWeather Hurricane Expert Dan Kottlowski explained.
The next name on the Atlantic hurricane list, now well into the Greek alphabet, is Kappa.