Hurricane Sally gave residents a harsh history lesson on Wednesday morning.
On the 16th anniversary of Hurricane Ivan striking Gulf Shores, Alabama, Hurricane Sally made landfall in the same town at 4:45 a.m. CDT on Wednesday, leaving coastal areas of Alabama and Florida turned upside down as one of the busiest hurricane seasons on record raged on.
Although originally forecast to make landfall as a Category 1 hurricane, AccuWeather meteorologists rated Sally a 2 on the RealImpact™Scale for Hurricanes, thus bringing moderate flooding and significant damage to the coast. After Sally did indeed suddenly strengthen to Category 2 wind speeds, its ensuing impacts certainly resembled moderate flooding and significant damage to the coast.
In the wake of Sally's direct impacts, communities throughout the Alabama and Florida coastline have been left with weeks of cleanup, particularly at beach areas. In Alabama, Gulf Shores, the spot of Sally's landfall, is closed to visitors for 10 days, along with the areas of Orange Beach and the Fort Morgan peninsula.
In Orange Beach, one person was killed from Sally's impacts and another remains missing, according to Mayor Tony Kennon. While Kennon said that there were no further details to add, the fatality did occur in the area most impacted by flooding.
In an interview with FM 1065, Kennon commented on the extensive damage, saying there wasn't a road in Orange Beach without a boat on it. He later told AL.com that he was exaggerating but added that the storm "was a surprise for everyone."
"People left them on lifts assuming they would ride it out," Kennon said, referring to the boats. "They are in the roads, businesses, backyards. It's comical in a way."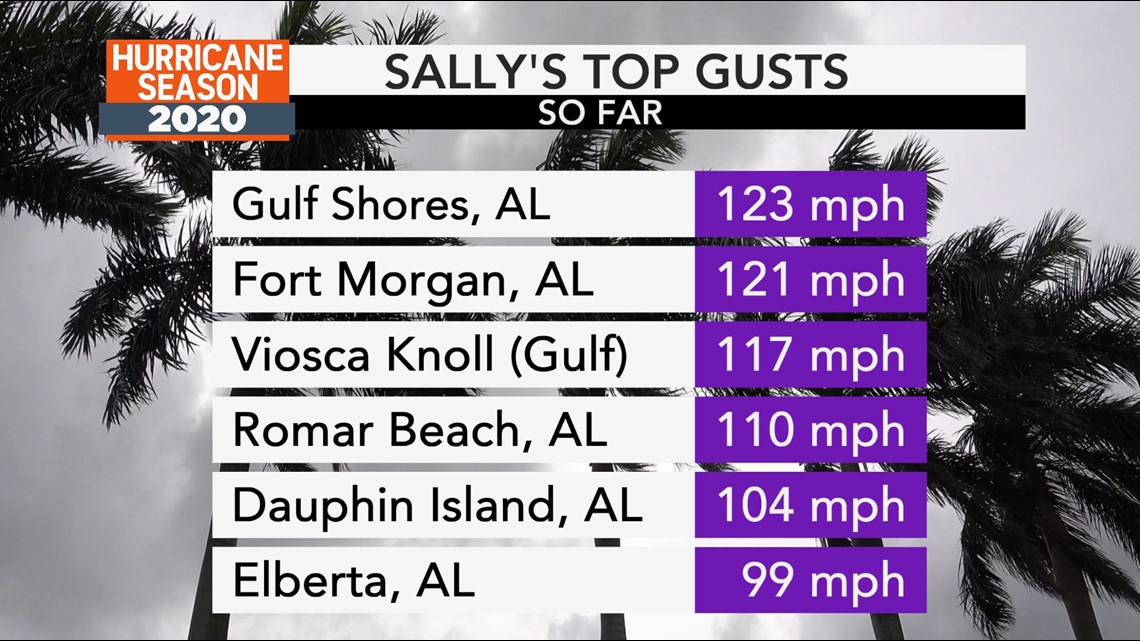 On Facebook, Orange Beach officials shared photos of those boats strewn throughout neighborhoods, storm debris across residences and widespread flooding.
Sally's impacts have extended far beyond its immediate impacts and the communities that were directly hit. Nearly 36 hours after landfall, nearly half a million people were still without power, mainly from Alabama and Florida but also extending into Georgia, according to PowerOutage.us.
Much of the impacts to strike Florida came via the intense rains that arrived before and after Sally's landfall. The heavy flooding forced the need for hundreds of rescues. In Pensacola, a loose barge struck and destroyed a section of the Pensacola Bridge, which connects Pensacola, Florida, to Gulf Breeze, Florida, via U.S. Highway 98.
Pensacola fire chief Ginny Cranor told CNN that the hurricane brought "four months of rain in four hours," as the area was one of multiple areas in the state that received over 2 feet of rain.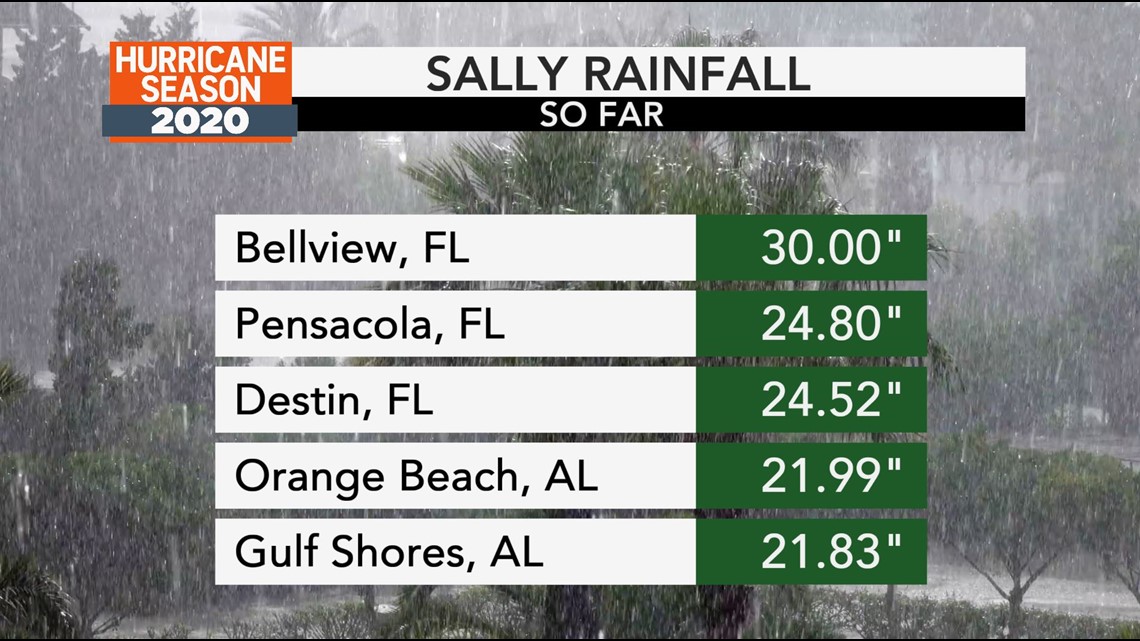 On Tuesday, Florida Sen. Doug Broxson said that the state is deploying 125 National Guard troops to northwestern Florida to assist in recovery efforts and added that the state has also requested that President Donald Trump add Florida to his emergency declaration. Previously, Trump had issued declarations in Alabama, Mississippi and Louisiana.
While many long-term residents in Florida have seen a plethora of hurricanes over the years, the storm striking Alabama marked the first hurricane experience for many in the state.
This was the first hurricane experience for one family in Fairhope, Alabama, just a few miles north of where Sally roared ashore before daybreak on Wednesday.
"I really didn't expect it because so often you get told that one's coming and you prep and you do everything and then it's almost nothing," Fairhope resident Terri Phipps told AccuWeather National News Reporter Bill Wadell. "But there was a different energy in the air like it was buzzing."
Located along Mobile Bay, the family in Fairhope is glad that they took Sally seriously. The storm may not have been considered a major hurricane on the Saffir-Simpson Hurricane Wind Scale, which is considered to be Category 3 or higher, but it unleashed a tremendous amount of rain on top of the inundating storm surge along the coast of the bay.
"We got all prepped up, thank goodness we did," Phipps said. "It was pretty crazy."
Hinton was in her home on Wednesday night and told AccuWeather what it felt like as conditions deteriorated in the middle of the night as Sally neared landfall.
"When I was laying in my bed, it felt like the trailer was going to take off," Hinton told Wadell. "I kept hearing things, but of course you can't see."
These are just two of countless families across the region that have been told to expect the possibility of being without power for several weeks as crews work to gradually repair the damaged infrastructure.
The storm's slow movement added to the astronomical rain totals, which were measured in feet in some parts of the Florida Panhandle, and forecasters say that flooding dangers aren't in the rearview mirror just yet. The areas of Bellview and Pensacola received the most rain from the story, totaling 30 inches and 24.8 inches, respectively.
Such heavy rain in Florida and neighboring states, such as Georgia and South Carolina, has triggered extensive flooding, deemed 'catastrophic and life-threatening' by the National Hurricane Center. River flooding is expected to be a concern in that region, along with North Carolina, through the weekend as Sally continues its way to the coast as a rainstorm.
"Local rainfall amounts to near 12 inches are possible in central Alabama, northern Georgia and the Piedmont areas of the Carolinas to perhaps the Virginia coast even as Sally unravels and weakens later this week," Sosnowski said. "Flooding along small streams and in poor drainage areas may be almost immediate, but it may take a few days for the larger rivers to respond to the rainfall."
Additional reporting by Bill Wadell and Jonathan Petramala.