Iota became the second-most intense hurricane to ever churn in the Atlantic basin in November on Monday morning -- second only to the 1932 Cuba hurricane, which packed winds of 175 mph. The extremely dangerous hurricane was heading westward toward hurricane-battered areas of Central America, which are in the midst of a humanitarian crisis following Hurricane Eta's deadly blow less than two weeks ago. Forecasters warned that the storm will maintain its intensity and make landfall as a 5 on the AccuWeather RealImpact™ Scale, threatening to bring one of the worst floods the region has had in a thousand years or more.
Iota reached Category 5 strength -- the first storm of the season to reach the highest status on the Saffir-Simpson Hurricane Wind Scale -- when its winds peaked at 160 mph on Monday morning. Just hours earlier, the record-breaking, 30th named storm of the season had strengthened from a Category 2 storm to a Category 4 major hurricane within an hour's time.
Iota strengthened so quickly that its intensification ranks among three other historic hurricanes: Gilbert in 1988, Rita in 2005 and Wilma in 2005. Also, Iota became the only storm to strengthen rapidly with its central barometric pressure dropping by 1.8 inches of mercury (61 mb) in 24 hours in November.
At 10 a.m. EST Monday, Iota was generating its whipping winds about 25 miles northeast of Isla de Providencia, Colombia, as it continued moving west at 10 mph. AccuWeather meteorologists are forecasting the powerful system to come ashore late Monday, potentially just miles away from the area where Eta made its catastrophic landfall less than two weeks earlier. Hurricane watches and warnings were in effect for much of the coast.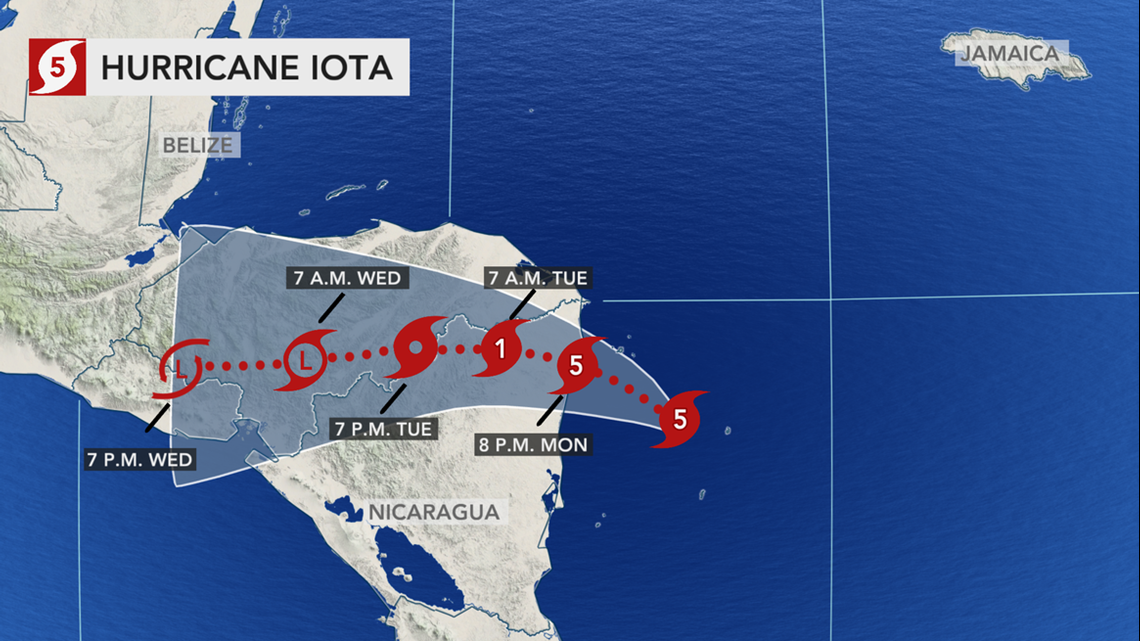 Before Iota, the most recent major hurricane in the Atlantic was Hurricane Eta. Hurricane Eta made landfall as a Category 4 hurricane on Nov. 3, in Nicaragua, which was among the top five strongest storms to ever hit the nation. Eta also carved a path of destruction through Honduras and Guatemala, unleashing feet of rain, tremendous flooding and killing more than 100.
Central America is still facing a humanitarian crisis following Eta's deadly blow. Millions are enduring dangerous conditions in the storm's wake -- with concerns over waterborne diseases and COVID-19 complicating recovery. And the situation is likely to become even more dire as Iota approaches the coast.
"Iota is expected to at least maintain its intensity up until landfall and is expected to strike as a Category 5 hurricane (maximum sustained winds 157 mph or greater)," AccuWeather's Lead Hurricane Expert Dan Kottlowski said.
"However, even if the storm does end up losing a little wind intensity before landfall, the exact wind intensity, whether it's a strong Category 4 or remains a Category 5, won't make that much of a difference on impacts at this point. It will be devastating regardless."
And the back-to-back blows from hurricanes will severely worsen the situation. Catastrophic flooding is anticipated because the ground is still saturated from Eta, and rain from Iota will run off into already swollen and flooded streams and rivers, according to AccuWeather CEO and Founder Dr. Joel N. Myers. The mountainous terrain will add to the dangers of flooding and mudslides.
"With Eta having gone through less than two weeks ago, Hurricane Iota will place another catastrophic blow to the region. No amount of words can describe the problems this system will add to the crisis already occurring in the area," AccuWeather Senior Meteorologist Matt Rinde said.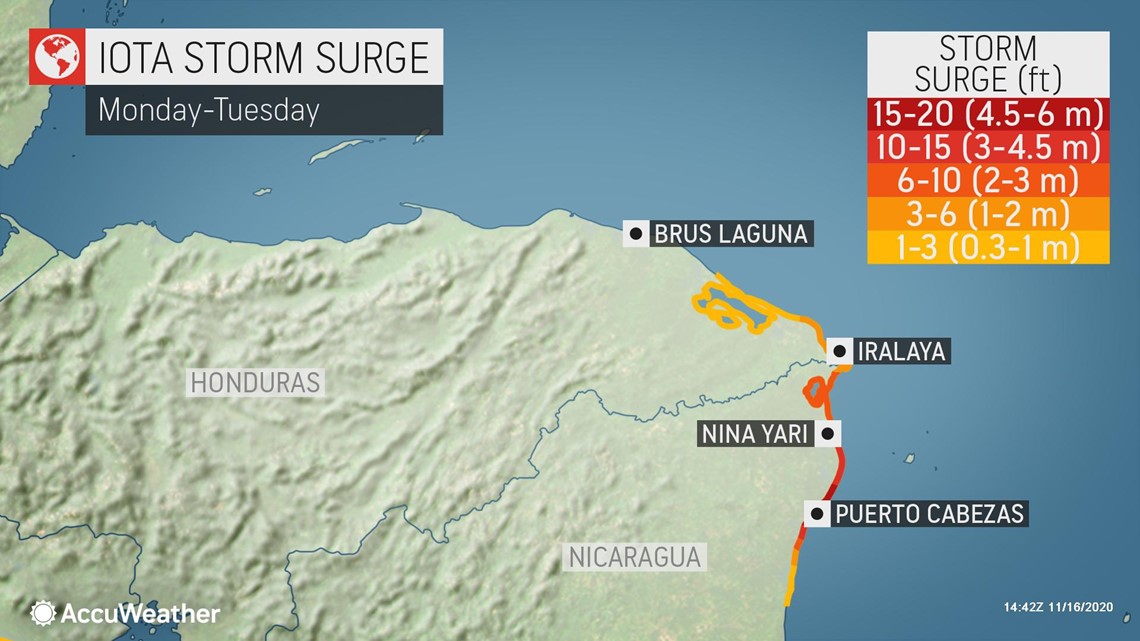 At the coast, an unsurvivable storm surge of 10-20 feet is expected near and to the north of where Iota will make landfall. Residents caught in this region as Iota arrives risk being swept out to sea by the rising waters. Some coastal communities may be completely wiped out.
Winds of incredible ferocity will also lash the coast. Wind gusts of 140-160 mph are expected near where Iota makes landfall, with an AccuWeather Local StormMax™ of gusts to 180 mph. This will shred even well-built structures. Trees, power lines and any weaker construction will be completely destroyed.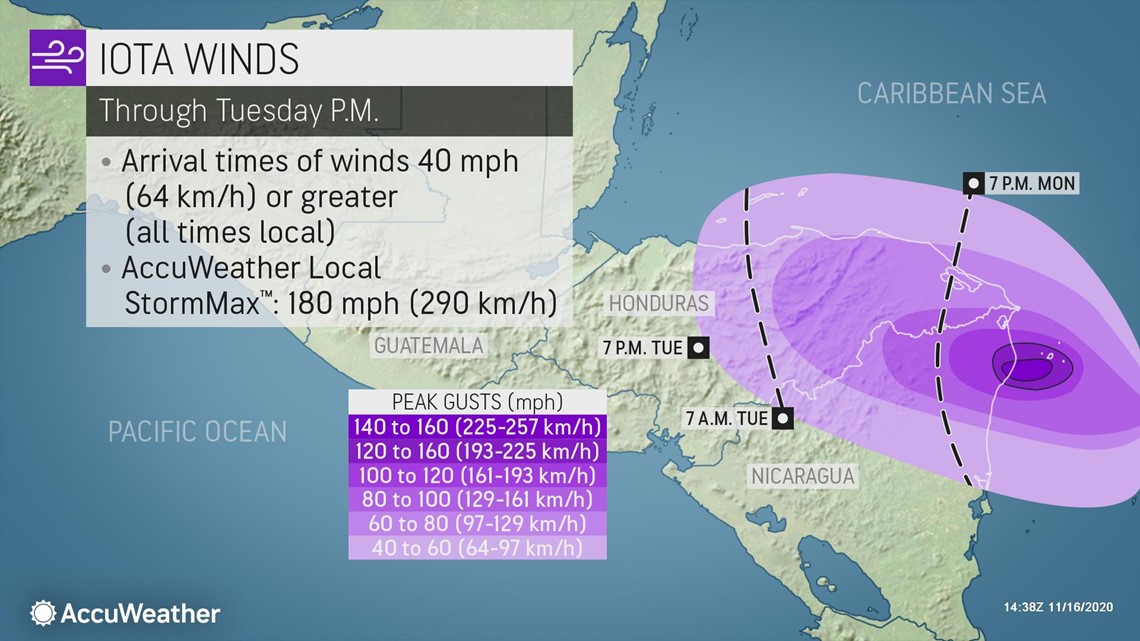 "Some areas along the coast will be uninhabitable for months," warned AccuWeather Senior Meteorologist Mike Doll.
Even still, the most widespread threat to lives and property from the new cyclone is expected to be dealt by serious flooding caused by feet of rainfall, much of which will fall over areas already ravaged by flash flooding and mudslides from Hurricane Eta.
Major river flooding and flash flooding could occur with a vast area of 12-18 inches (300-457 mm) across the mountainous terrain of Honduras, the most likely location for the AccuWeather Local StormMax™ of 30 inches (762 mm).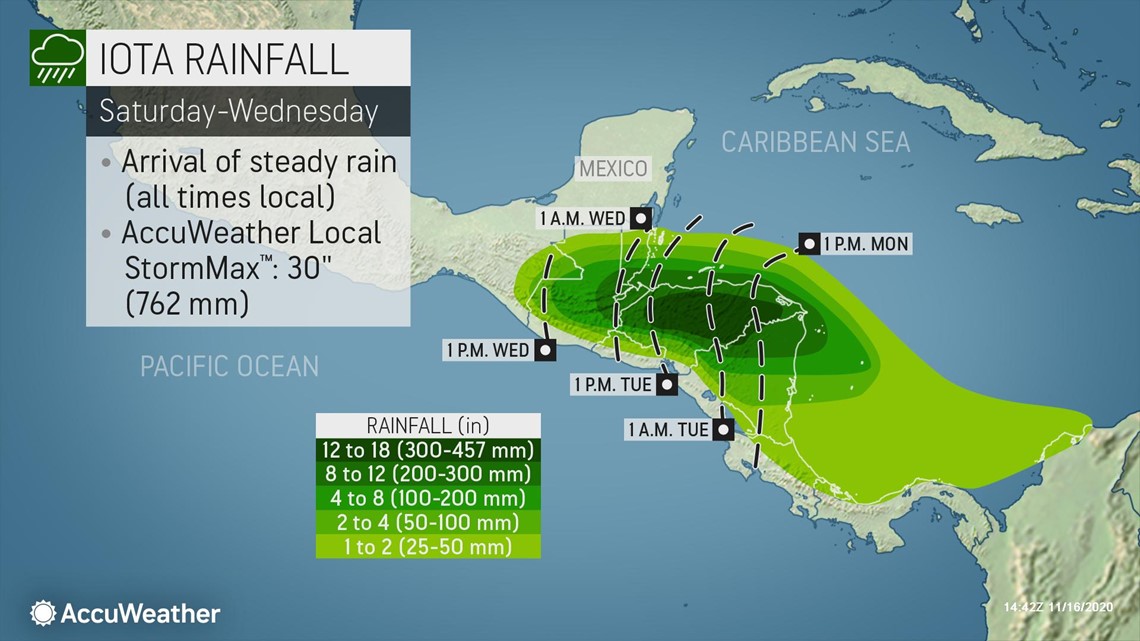 Combined with the heavy rain, gusty winds will also penetrate well inland in northeastern Nicaragua and eastern Honduras as Iota winds down over land. This can lead to some damage to trees, power lines and poorly constructed buildings, especially when combined with the already saturated soil in the region. Trees will be much more likely to topple due to the soggy ground. Any loss of trees or vegetation on hillsides can make them more susceptible to mudslides.
Given the threat posed by devastating storm surge, catastrophic flooding extending well inland and devastating winds, along with the ongoing crisis and recovery efforts in the region, Iota will be a 5 on the AccuWeather RealImpact™ Scale for Hurricanes over Central America.

The AccuWeather RealImpact™ Scale for Hurricanes is a 6-point scale with ratings of less than 1 and 1 to 5. In contrast to the Saffir-Simpson Wind Scale, which classifies storms by wind speed only, the AccuWeather RealImpact™ Scale for Hurricanes is based on a broad range of important factors. In order to better communicate a more comprehensive representation of the potential impact of a storm to lives and livelihoods, the scale covers not only wind speed, but also flooding rain, storm surge and economic damage and loss.
"This may be one of the worst floods in some of these areas in a thousand years or more," Myers said. "Some of these countries may not completely recover for five to 10 years."
For only the second time in history, a second hurricane landfall is projected to occur in Nicaragua within one season. The last time two hurricanes struck the nation was in 1971, when Hurricane Irene and Hurricane Edith both crashed ashore.
Tropical Storm Iota developed Friday afternoon in the central Caribbean just hours after the system had become Tropical Depression 31. Iota strengthened into a Category 1 hurricane early Sunday morning and officially became the 13th hurricane of the season. 2020 is now just two shy of the record number of hurricanes to churn in the Atlantic in one season held by 2005.
In fact, this is the first time the NHC has ever gotten this far into the Greek alphabet during a tropical season.
Iota strengthened into the sixth major hurricane -- Category 3 or greater -- of the season early Monday morning. Five other major hurricanes churned in the Atlantic this season: Laura, Teddy, Delta, Epsilon and Eta.
According to Philip Klotzbach, a meteorologist at Colorado State University, 2020 is now in a seven-way tie for the second-most major hurricanes in an Atlantic hurricane season. Other years that have had six major hurricanes include 1926, 1933, 1950, 1996, 2004 and 2017. The 2005 Atlantic hurricane season holds the record for the most major hurricanes, with seven total so far.
2020 set the record for the most tropical storms to be named in one Atlantic hurricane season as Theta became the 29th tropical storm of the season last week. Forecasters say more activity may loom in the Atlantic after Iota, and additional threats could head toward Central America.
"Another tropical wave will enter the southern and western Caribbean later this week and could become another named tropical system by the weekend before heading, once again, for Central America," Kottlowski explained. "However, at this point this next feature looks to take a track a little farther south than Eta and Iota, perhaps toward southern Nicaragua or Costa Rica."
The next name on the Atlantic hurricane list, now well into the Greek alphabet, is Kappa.
Additional reporting by AccuWeather meteorologists Courtney Travis, Mary Gilbert and Meghan Mussoline.