SCRANTON -- President Obama has already stopped in Buffalo and Syracuse New York, where he talked about making college affordable for everyone.
"The average student who borrows for college now graduates owing more than $26,000," said President Obama Thursday.
The President and Vice President, Scranton native Joe Biden, are scheduled to stop at Lackawanna College to give that same message.
The talk in Scranton is scheduled for 5 p.m. and already, city officials are prepared with no parking signs and a plan to close streets around the Lackawanna College building where the nations leaders will be speaking.
Watch the event live at 5pm on WNEP and wnep.com
Scranton police said anyone parked in 'No Parking' areas after 9 a.m. Friday morning will be towed.
"I live 10 blocks that way, down in south side so I can probably walk up if it's not too much trouble, but I'm definitely not going to be taking my car up through here, you know? I'm going to try to leave as early as possible," said George Spotts, a Lackawanna College student.
For the presidential visit, the following streets will be closed to traffic starting at 11 a.m.: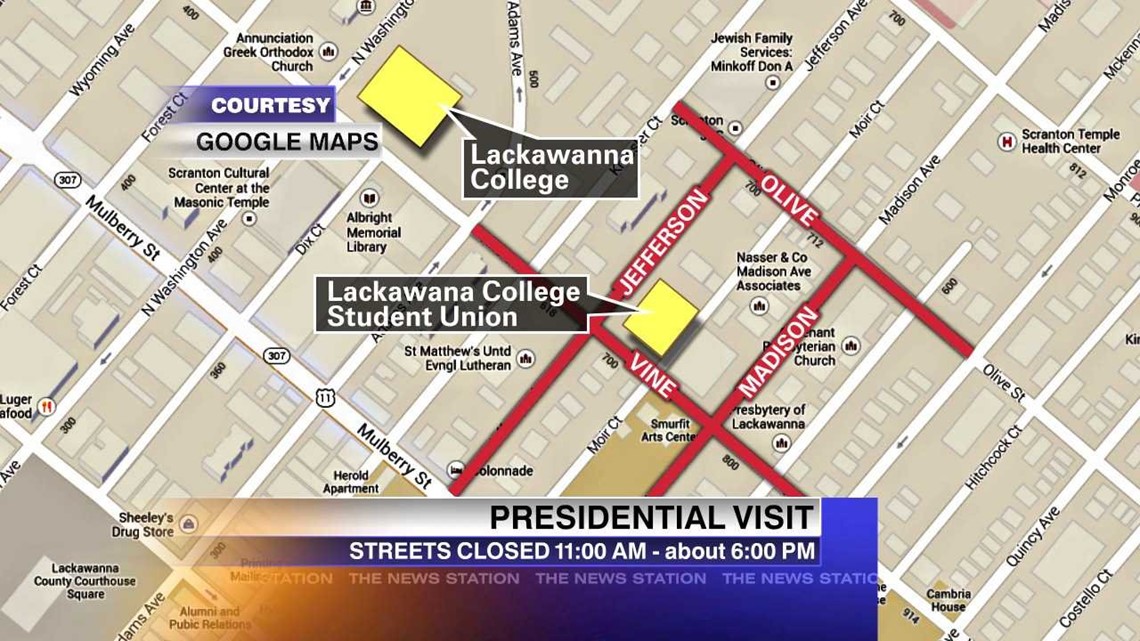 "I'm sure it's going to be really hectic but everybody is just so excited so it's a really cool atmosphere right now, but I'm sure it's just going to be packed," said Erik Mahal of Scranton.
"It's going to be hectic, but we're going to try. It's not something that happens everyday, so we're going to try," said Riana Darrow of Hop Botttom.
"Even if I have to walk a couple blocks or something, I don't know. I have a ticket so I have to get in, right?" laughed Holly Diehl of Hop Bottom.