DENVER — Former Illinois Gov. Rod Blagojevich thanked President Donald Trump for commuting his prison sentence for political corruption charges while speaking outside his Chicago home Wednesday.
Blagojevich on Tuesday was released from Federal Corrections Institution Englewood, which is just south of Denver.
Unlike his highly-publicized arrival in 2012, Blagojevich managed to quietly slip away from the facility after serving more than eight years.
He was originally sentenced to 14 years for crimes that included trying to sell the U.S. Senate seat vacated by former president Barrack Obama's election, and trying to shakedown a children's hospital. He was arrested in December 2008, and he was convicted on 17 of 20 counts in June of 2011.
Blagojevich, who was originally on track for a March 2024 release, said he found out about the commutation from other inmates, who saw it on TV. He stopped for fast food, posed for photos and signed autographs at Denver International Airport (DIA) before returning to his Illinois home.
When reporters first caught up with Blagojevich at DIA, the Democrat thanked the president and commented on a Republican being responsible for his early release.
"I want to express my most profound and everlasting gratitude to President Trump; he didn't have to do this," Blagojevich said. "He's a Republican president, I was a Democratic governor, my fellow Democrats have not been very kind to him, they've been very unkind to him."
Blagovich said he is a big fan of Trump: "If you're asking me what my party affiliation is, I'm a Trumpocrat."
Speaking with his wife and two daughters outside their Chicago home on Wednesday, Blagojevich said it has been a "long, long journey" while continually dabbing blood away from a cut on his face.
"I'm bruised, I'm battered, and I'm bloody," he said. "It's been a long time since I shaved with a normal razor, and it takes a little practice."
Blagojevich spoke about living in an 8-foot-by-6-foot prison cell and spending his first 32 months inside the facility behind barbed-wire fence.
"You can't go near that fence," he said. "If you do, there are prison guards there armed with machine guns who have the discretion to shoot you. I didn't go near that fence."
Blagojevich led a mostly quiet life in prison. He mopped floors and became the lead singer in a band called "Jailhouse Rockers."
Trump first said he was considering Blagojevich's sentence in May 2018. The president has said the punishment the one-time "Celebrity Apprentice" contestant received was excessive, and that he spent too much time away from his family.
"Doing this does nothing to help [Trump's] politics," Blagojevich said. "This is an act of kindness, and I also believe it's the beginning of a process to turn an injustice into a justice."
Blagojevich reiterated that he is a "Trumpocrat," and said he will vote for Trump if allowed.
The former Illinois governor maintains that he did not break any laws, and called selling a Senate seat "routine politics." He also took aim at the criminal justice system while speaking, and said he will advocate for reform.
"It's a broken criminal justice system, and it's unfair. Too many people have too much power with no accountability," Blagojevich said. "They can railroad people and put innocent people into prison."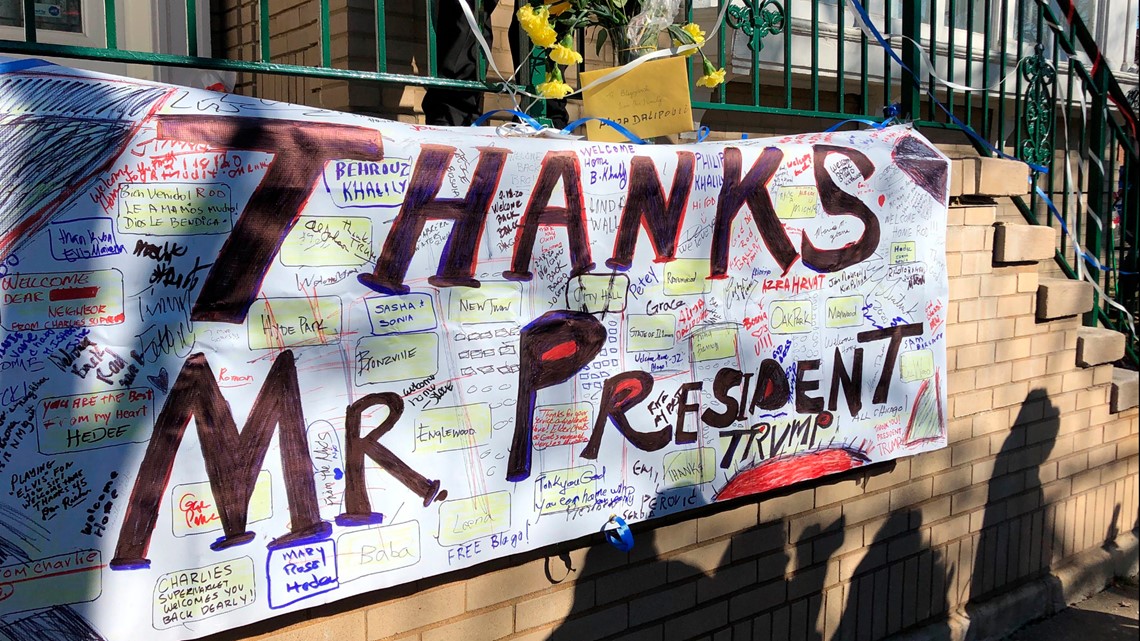 Blagojevich was one in a long list of people who Trump suddenly pardoned or gave commuted sentences Tuesday. The list includes former New York City Police commissioner Bernie Kerik, who served three years for tax fraud, and financier Michael Milken, the "junk bond king" who pleaded guilty to violating U.S. securities laws.
Trump also pardoned Edward DeBartolo Jr., the former San Francisco 49ers owner convicted in a gambling fraud scandal.
Trump also commuted the sentences of several women more representative of the flood of requests that presidents typically receive. Judith Negron had been serving 35 years at a Florida prison for health care fraud, conspiracy and money laundering when she was released Tuesday.
The Associated Press contributed to this report.