SUSQUEHANNA — Six rural hospitals in northeastern and central Pennsylvania are losing millions of dollars because the state cannot pass a budget.
The budget impasse in Harrisburg has already forced some of these rural hospitals in our area to cut pay and staffing levels.
Hospital administrators are afraid the recent line item veto by the governor will end up leaving them without the money they need to keep their facilities running.
Charlie Aliano was born at Barnes-Kasson Hospital near the borough of Susquehanna.
"Most families have been touched by this hospital one way or another."
That includes Aliano's family. Barnes-Kasson emergency room staffers saved his niece's life in 1984 when she had head injuries in a home accident.
Four years ago, Charlie was treated there for a heart attack. The nearest hospital to Barnes-Kasson is 45 minutes away.
"Without this hospital, I think I would not have made it," said Aliano.
Now he's fighting for the hospital's survival, working as Barnes-Kasson's lawyer.
Hospital director Sara Adornato says the facility is doing without almost $1 million from the state's critical access hospital program. That money is tied up by the state budget impasse in Harrisburg.
"It feels like you're being held hostage," Adornato said.
Barnes-Kasson is one of six critical access hospitals in northeastern and central Pennsylvania that qualify for state and federal funding because they are at least 25 miles from other facilities with emergency services.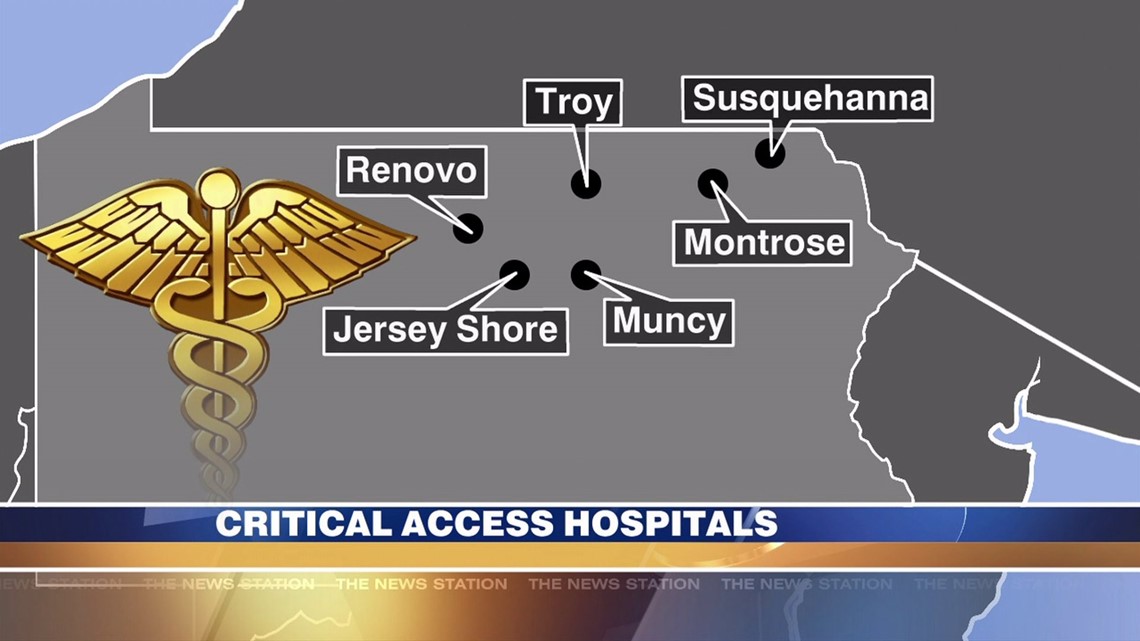 To continue running without that state money, Barnes-Kasson laid off five workers and lowered salaries between six and 10 percent.
"We're talking six percent off of people who make about $18,000 to $20,000 a year," said Adornato. "It's devastating to them."
Last month, Governor Tom Wolf vetoed critical access hospital funding from a budget sent to him by lawmakers.
"What I did with my line item was not intended to be disparaging," said the governor.
Governor Wolf says he's not trying to kill the critical access program, but to keep it in the budget, the governor says lawmakers need to have more money in the next spending plan they pass.
"We can't spend something we don't have and that's the point I'm trying to make here. It's not that these institutions are not important, they really are," Wolf added.
They're important to rural health and local economies.
In Susquehanna, Barnes-Kasson's $11 million yearly payroll is vital to a community struggling with double-digit unemployment and a tough climate for small business.
"We have a lot of faithful employees and a very supporting community," Adornato said. "They're able to absorb it right now, but our question is, 'How long can they?'"
Charlie Aliano worries if lawmakers or the governor keep critical access funding out of the budget, the money may never be restored, and this 110-year-old facility will have to close.
"It's a direct assault on rural health care. You can't help but think that."
A representative of Jersey Shore Hospital in Lycoming County said:
"This supplemental payment is for services our patients received in 2013 and 2014.  It's unfortunate and disappointing that the state's most vulnerable hospitals and communities are being harmed due to the State's inability to agree on a budget.  We count on that supplemental payment. Without it, it is going to be very difficult to maintain our commitment to our communities." — Dave Shannon, Chief Executive Officer
There are 13 of these rural hospitals in our state and representatives of every one say they'd struggle or shut down if the program were permanently eliminated.