LAPORTE TOWNSHIP -- The 1957 Chevrolet is a well-known car, to say the least. They came in everything from sedans to coupes, station wagons to convertibles.
"The '57 Chevy is an icon in American muscle cars. It's been in a lot of movies. It's just the epitome of the 50s car," Dave Bower said.
Seeing just one of these cars might make you stop and stare. But what if you saw 57 of them all in one place?
"They have 57 '57 Chevys and it can't be. It's just hard to imagine," Frank Arone said.
Yes, there are 57 '57 Chevys at Merritt Field, a private airport next to the Eagles Mere Auto Museum. They are here for a reason. The couple who owns these cars and the museum both turned 57 this year.
Skycam 16 video shows how volunteers lined up the cars in the shape of the number 57. That's right. 57, '57 Chevys, lined up to form the number 57, for the owners' 57th birthdays.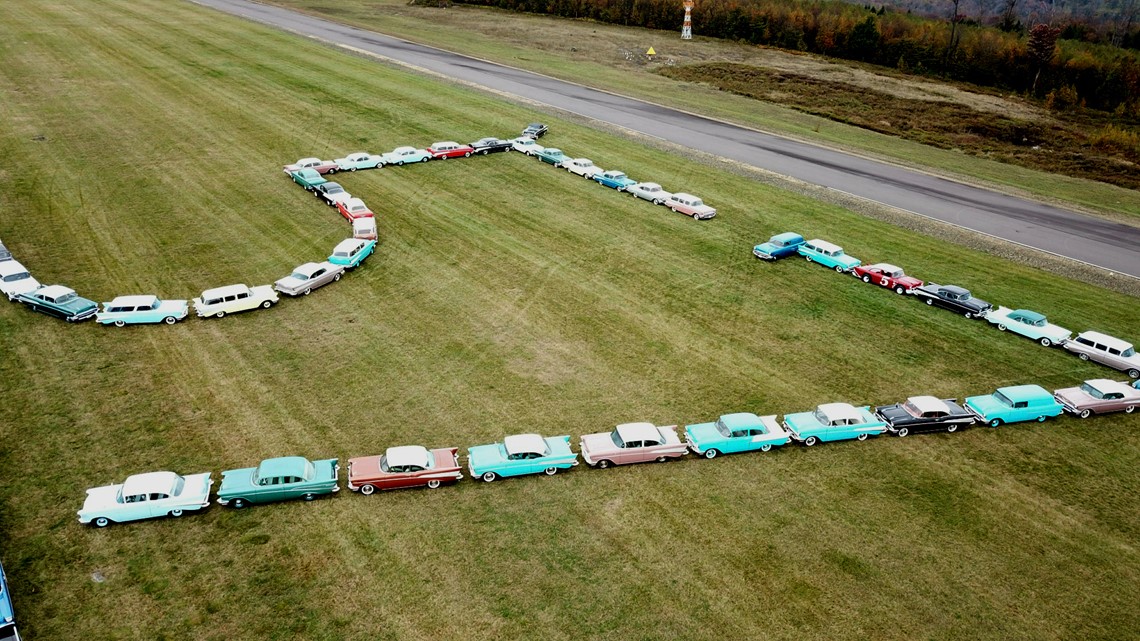 The owner of these cars is a longtime collector of 1957 Chevys. He got his first one in 1984 and hasn't stopped since.
Each car is arranged in a specific spot by color, and highlighting the owner's favorite cars. It took about ten hours, two days and 30 drivers.
Nick Diehl of Muncy got to drive a 57 Chevy for the first time.
"It was just neat turning on that engine and just hearing that thing roar underneath us," Diehl said.
Skycam 16 captured the group's hard work. There's not one car out of place.
"I know what they like. I know what fits the bill for them, per say," Kenny Pascoe said.
Kenny Pascoe of Poughkeepsie, New York buys and sells classic cars.
"I was told I'm going to be here because I am a big part of it, which I really appreciate. But I would have come anyway," Pascoe said.
The owners of all the 57 Chevys did not want to go on camera, and did not want Newswatch 16 to use their names, but did tell us they were overwhelmed by this unique celebration for their 57th birthdays.