GIRARDVILLE, Pa. -- Part of a building has collapsed in a Schuylkill County community.
The fronts of two rowhomes have crashed down into the sidewalk on West Odgon Street in Girardville.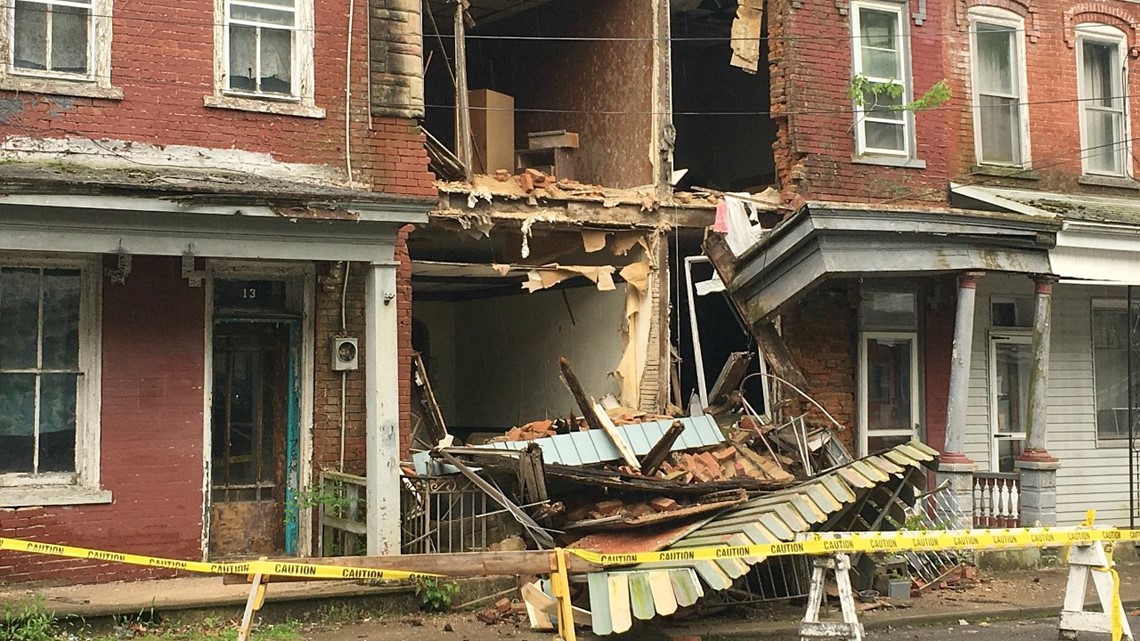 People who live on West Ogden Street in Girardville say they saw this collapse coming. Borough officials say they did, too, but the number of blighted properties in their community exceeds their financial ability to take care of them.
Bricks and window screens covering the sidewalk, a shell of a building that looks like the front facade was peeled away -- it's the sight neighbors say they saw early Friday when they looked out the window.
"We were home. We were all sitting in the dining room like towards the middle of the house, and all of a sudden, we heard what sounded like an avalanche. It just came crashing down into the street," recalled neighbor Deb Cuff.
Cuff says it's a shame. She's lived across the street from these condemned buildings for years and she doesn't like watching the buildings deteriorate day after day.
"Especially because at one time it was a nice neighborhood, but everybody up and moved away, and like I said, with all the flooding and everything going on and all the water damage they went through, I'm surprised they didn't collapse sooner."
The acting mayor in Girardville tells Newswatch 16 this building and the six attached to it were condemned and on the borough council's radar. For the borough taking care of properties like this is a matter of money.
"We ironically spoke about it last night at the council meeting. We had a meeting last night," said acting mayor Robert Krick. "With the limited funding, you try to pick the house that has the most impact, that would help the most people. Sometimes these aren't it."
No one was hurt in either incident.
Krick says this issue is all too common in his neck of the woods.
"I don't think we're alone in this situation. I think a lot of Schuylkill County and a lot of other areas are blighted and it's a problem."
Krick says he and the borough council will be reviewing bids to tear down those buildings on West Ogden Street and do whatever is in the council's financial means to try and prevent more problems like this in the future.