UPDATE 9/14/14 — According to the Pike County district attorney, the reward has been increased to up to $50,000 for information leading to an arrest and conviction. (866) 326-7256
UPDATE 4:15 p.m. -- State police have put out an updated phone number for tips regarding the deadly ambush at the Blooming Grove barracks.  (866) 326-7256
UPDATE 2:30 p.m. -- State Police commissioner Frank Noonan identifies Corporal Bryon Dickson as the state police member killed in Friday night's ambush at the barracks in Blooming Grove, Pike County.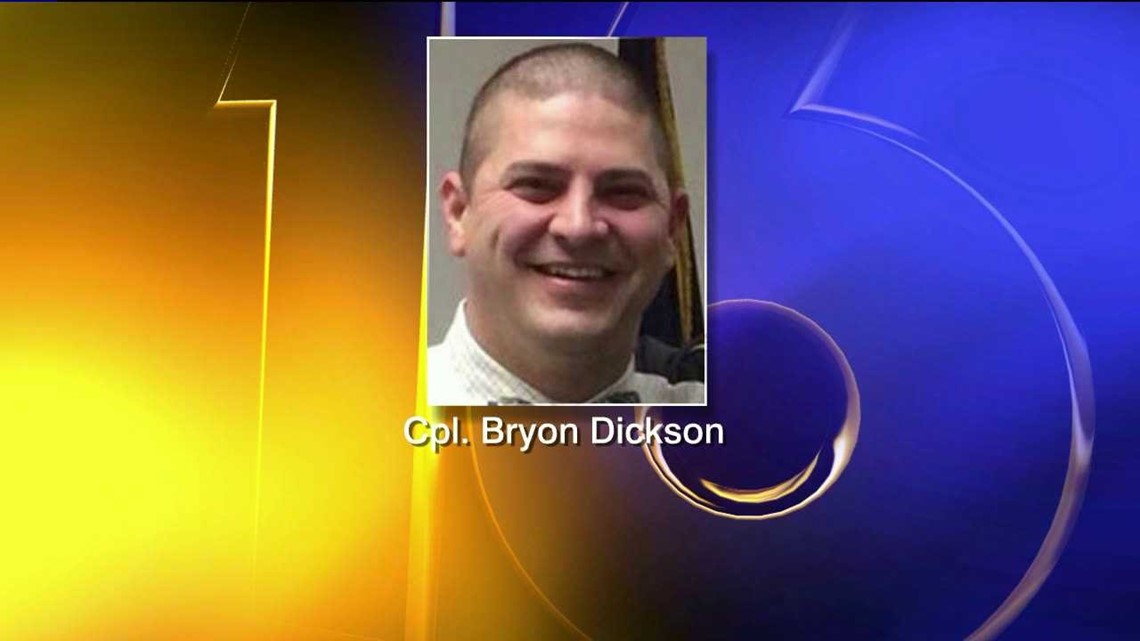 Noonan says no suspect or suspects are in custody. Noonan says the attack seems to be directed at law enforcement, not the general public. They believe that whoever carried out the shooting is no longer in the immediate area.
PA Crime Stoppers is offering a $20,000 reward for information leading to an arrest and conviction in this case. Call (800) 4PA-TIPS (800-472-8477).
Governor Corbett has ordered all Pennsylvania flags in the Capitol Complex and at commonwealth facilities in Pike County to fly at half-staff to honor Corporal Dickson.
UPDATE 1:10 p.m. -- State police are expected to release more information about the shooting this afternoon.  A news conference with State Police Commissioner Frank Noonan is scheduled for 2:30 p.m.
UPDATE 11:50 a.m. -- Governor Tom Corbett released a statement on the shooting. The statement reads:
"Our prayers go out to the family, friends and colleagues of the Pennsylvania State Police trooper who was killed in the line of duty Friday night outside the Blooming Grove, Pike County, state police barracks. We are praying as well, for the full recovery of his colleague who was injured in the incident.
"Every attack on an officer of the law is an attack on our state, our country and civilized society. The incident in Blooming Grove shows, once again, that our first responders face constant danger in order that the rest of us may live in peace and safety.
"At this time, State Police Commissioner Frank Noonan and Pennsylvania State Police troopers are working with local and other law enforcement agencies to apprehend the person or persons who carried out this cowardly act. We ask the public to be patient as well as vigilant."
Congressman Tom Marino (R-10th) also released a statement, saying:
"My first reaction was pure sadness. Officers and troopers put themselves in harm's way day in and day out but it is their families that bear a burden as well. The best thing our communities can do right now is seek to be supportive. We lost a trooper, another one is injured. Our deepest sympathies, thoughts and prayers are with them.
"However, my second reaction was anger. I cannot even fathom the mind of a monster that would ambush our troopers. I hope our officers, on the hunt right now, catch the suspect and bring him to justice as soon as possible. We have some of the finest law enforcement officers in the country and I know our communities are in good hands during the pursuit. But I pray for their safety during this difficult time."
UPDATE 10:30 a.m. -- Police are questioning a person of interest in the shooting.
BLOOMING GROVE TOWNSHIP -- One Pennsylvania State Police trooper is dead and another is injured following a shooting at a barracks in Pike County.
State police have confirmed there was a shooting late Friday night at the Blooming Grove barracks.
Authorities confirm one trooper is dead and another was wounded.
Their names have not been released.
It happened along Route 402 in Blooming Grove Township.
Investigators said it happened Friday night as the two troopers were changing shifts. They were shot outside the barracks by a shooter or shooters.
Troopers say no one is in custody and a massive manhunt is under way, with police from Pennsylvania, New York, and New Jersey involved in the search.
Our crews have watched more than 100 police vehicles race up Route 402 towards the Blooming Grove barracks just off Interstate 84.
Newswatch 16 was also there as numerous medical helicopters were seen taking off in the area.
SWAT team vehicles also arrived in the Blooming Grove area just before 1 a.m. Saturday.
The trooper injured is recovering from surgery. His injuries are not believed to be life-threatening.
The state police commissioner said it has been a trying night for everyone involved.
"It's very emotional for all of us," said Pennsylvania State Police Commissioner Frank Noonan. "But we're also focused on our investigation. I'm sure this is going to be a very difficult time for them as it is for all of as when we're done working to get this terrible crime solved.
Commissioner Noonan added that, "People in the area can come and go freely but should be alert."
Anyone with any information is asked to contact the Pennsylvania State Police in Honesdale at 570-253-7126.
Troopers out of the Dunmore state police barracks are taking over this investigation, while Honesdale state police are handling all calls for troopers at Blooming Grove until further notice.