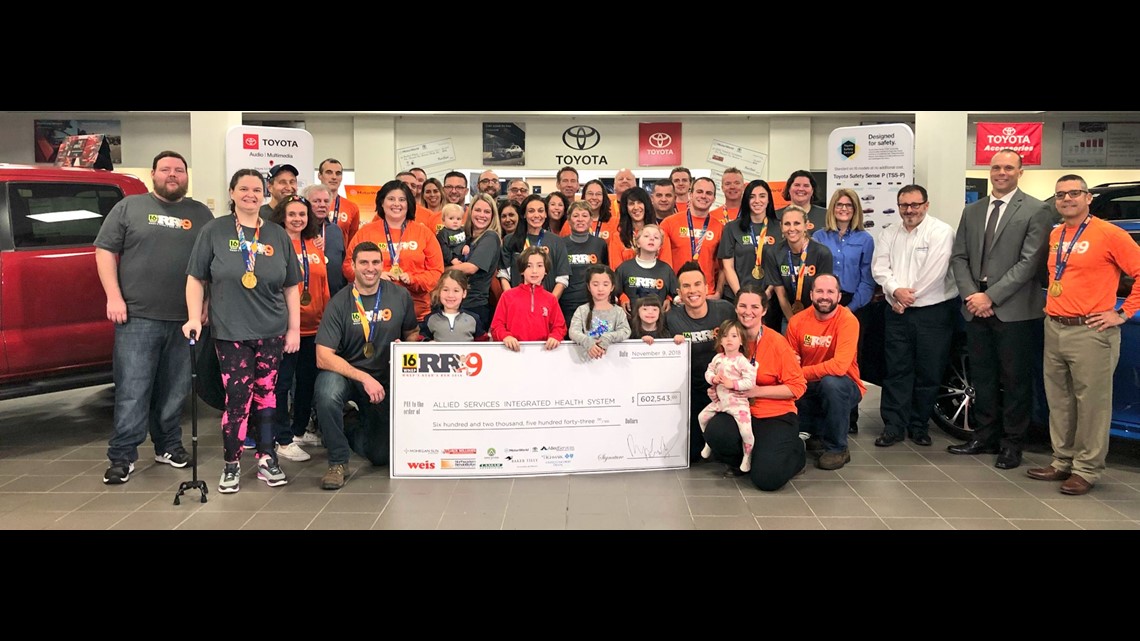 Friday, November 9, marked the grand finale of WNEP's Ryan's Run 9 with a big check presentation for Allied Services.
The final celebration was held at MotorWorld Toyota near Wilkes-Barre, one of nine corporate sponsors of Ryan's Run.
The charity campaign benefits kids and adults with disabilities. Allied Services is one of our area's largest nonprofits with a mission of "providing miracles in rehab."
Thanks to your help, Ryan's Run 9 raised $602,543 for Allied Services.
The campaign is spearheaded by Newswatch 16's Ryan Leckey.
This year, our cause has extra meaning for many of us here at the news station.
Julie Melf is the Nighttime News Manager at WNEP.  She is a valuable player here at Newswatch 16.   Earlier this year, Julie had a problem with her mechanical valve in her heart and suffered a massive stroke at 35.
The cutting-edge technology at Allied Services, bought with your donations, has helped her therapy progress.
Check out her story here.
TCS New York City Marathon
On Friday, Ryan Leckey gave us an inside look at our charity team in action at TCS New York City Marathon.
In nine years, WNEP's Ryan's Run has raised more than $3.1 million to help kids and adults with disabilities throughout northeastern and central Pennsylvania.
The campaign has also received multiple honors. Ryan's Run was named by the Pennsylvania Association of Broadcasters as an "Outstanding Television Public Service Campaign."
To learn more about WNEP's Ryan's Run, click here.
To inquire about our team for next year's campaign, contact Charlotte Wright at Allied Services via email at CWrigh@Allied-Services.org.