PENNSYLVANIA, USA — Newswatch 16's Morning Meteorologist, Joe Snedeker, is planning the bike ride to benefit St. Joseph's Center.
He knows he has a lot of pedaling ahead, and he knows it will be in the coverage area, he knows he needs your help to make it successful, and he knows the people in NE & Central Pennsylvania know how to make it a huge success!
Ride dates:
Monday, July 24th – Friday, July 28th.


Go Joe 26 route: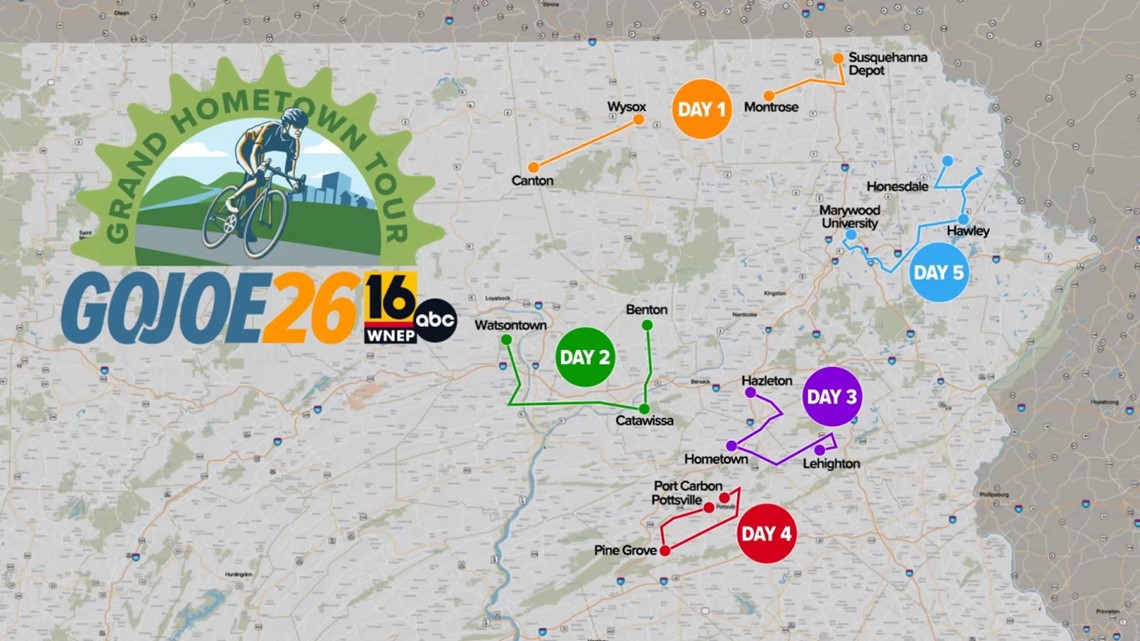 Joe's daily route may change due to circumstances beyond our control
Day 1:
Day 2:
Watsontown (AM News)
Catawissa (Noon News)

Rupert
Bloomsburg
Lightstreet
Orangeville

Benton (4 - 6:30 PM News)
Day 3:
Hazleton

Beaver Meadows
Tresckow
McAdoo
Quakake
Delano
Barnesville
Hometown Farmers Market (Noon News)

Hometown

Tamaqua
Coaldale
Lansford
Nesquehoning
Jim Thorpe
Weissport

Lehighton (4 - 6:30 PM News)
Day 4:
Pottsville

Marlin
Llewellyn
Branchdale
Newtown
Tremont
Ravine

Pine Grove (Noon News)

Friedensburg
Cressona
Schuylkill Haven
Orwigsburg
New Philadelphia

Port Carbon (4 - 6:30 PM News)
Day 5:
Honesdale
Hawley(Noon News)

Lakeville
Hamlin
Moscow
Roaring Brook
Scranton

Marywood University (St. Joseph's Center Festival)
How can I donate?
Summer of the Chicken
And don't forget: It's the Summer of the Chicken!
The St. Joe's team will be selling raffle tickets for the chance to win one of Joe's autographed chickens at several stops along his Go Joe 26 route.
Chickens for Charity raffle tickets will be $1 each.
Dunkin' Iced Coffee Day:
Cool down for a great cause at your local NEPA Dunkin' on July 26.
$1 from every iced coffee sold will be donated locally to Saint Joseph's Center to help support individuals and families with special needs.
Go Joe and St. Joseph's Center would like to thank these corporate sponsors for their support. Your donation, along with these sponsors, are sure to make this a record year for the children and young adults of St. Joe's.
Granddaddy Sponsors:
Fast Track Sponsors:
AJ's Pub and Hometown Friends, Matt Burne Honda, Ceccacci Lift Truck Service (CLTS), Dukey's Cafe', Friends of Jim Parry, ID Logistics, Kriger Pipeline, Jerry's For All Seasons, Lehigh Valley Hospital - Dickson City, M&T Bank, Modern Gas, Montage Mountain Resorts, Mrs. T's Pierogies, Pipefitters and Plumbers Local 524, SCI - Coal Twp., Serenity Personal Care, Wayne County Redi-Mix.