MOOSIC, Pa. — WNEP-TV is proud to announce the Go Joe 25th Anniversary Bike Ride for St. Joseph's Center, Dunmore. Morning Meteorologist, Joe Snedeker, will once again take on the challenging streets and roads of northeastern and central Pennsylvania. You can help Joe make a difference in the lives of the children and young adults with severe mental and physical disabilities at St. Joe's.
Donations and Go Joe Shirts
Go Joe shirt orders cannnot be taken by mail, but, if you'd like to mail in a donation, make checks payable to St. Joseph's Center, and mail to Go Joe 25, c/o WNEP-TV, 16 Montage Mountain Road, Moosic, PA 18507.
The Ride
Joe will ride through the WNEP-TV coverage area during the last full week of July, ending at the St. Joseph's Center Festival 2022. Join us at the stops or wave to him along the way.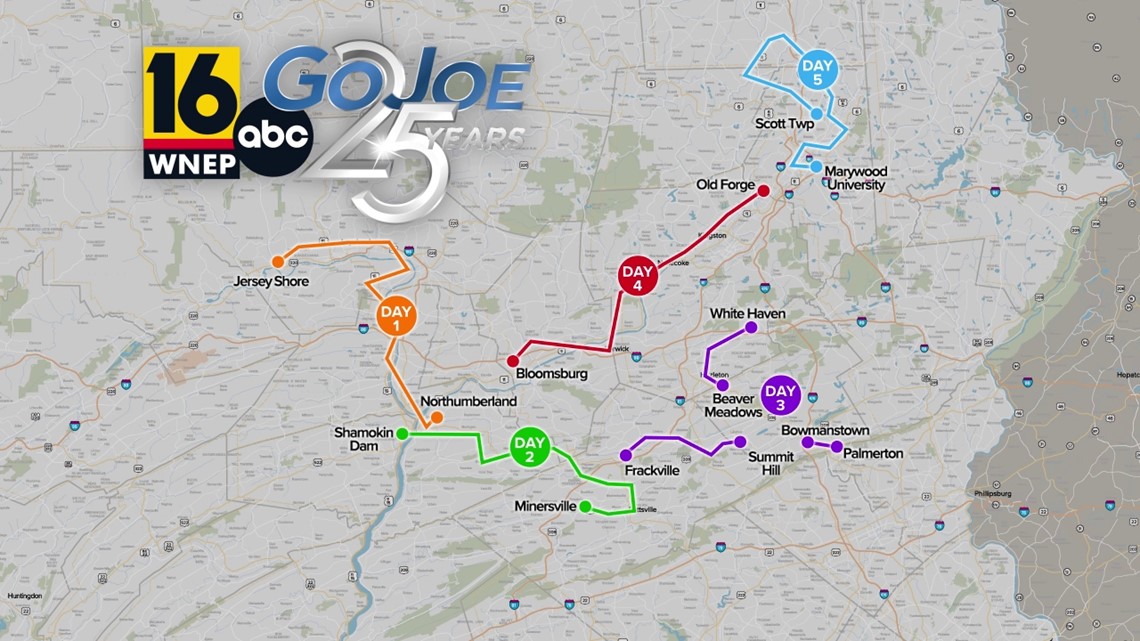 Monday, July 25
Jersey Shore - Park next to the River
Williamsport - Bowmans Field
Loyalsock
Montoursville
Muncy
Montgomery - Fire Company Field across from Montgomery Park
Montgomery
Watsontown
Milton
Lewisburg
Sunbury
Northumberland - Town Park
Tuesday, July 26
Shamokin Dam
Paxinos - Masser's Farm Market
Shamokin - Independence & Market Sts.
Kulpmont
Mt. Carmel - Gazebo Park
Ashland - Eureka Park
Ashland
Gordon
Heckscherville
St. Clair
Pottsville
Marlin
Minersville - Recreation Complex near the Pool - Activities!!
Wednesday, July 27
Frackville
Mahanoy City
Hometown
Tamaqua
Coaldale
Summit Hill - Ludlow Park - across from Fire Company
Palmerton Area - Gazebo Park
Bowmanstown
Beaver Meadows
Hazleton - Church Hill Mall
Freeland - Martin Park
White Haven - Downtown Block Party - by Caboose
Thursday, July 28
Bloomsburg
Lightstreet
Berwick
Shickshinny - Susquehanna Warrior Trail Park
Shickshinny
Nanticoke
Plymouth - Miner's Monument - Carolina & Main
Kingston - Kingston Fire Department
Swoyersville - American Legion Pavilion
West Pittston - at closed entrance to Water Street Bridge
Old Forge - Downtown
Friday, July 29
East Benton
Nicholson
Hop Bottom - Shore Forest Campground
Clifford - Clifford Fireman's Carnival
Carbondale
Jermyn
Archbald
Olyphant
Dickson City
Marywood University - St. Joseph's Center Festival Telethon
Festival Hours
More good news! The St. Joseph's Center Festival returns! Food, fun and games on the campus of Marywood University, Dunmore. Mark your calendars:
Friday, July 29 4 pm - 10 pm
Saturday, July 30 4 pm -10 pm
Sunday, July 31 Noon -7 pm
The festival at Marywood University includes WNEP'S Telethon for St. Joe's, which runs from 7 to 9 p.m. on Friday and Saturday, July 29 and 30, right here on WNEP, WNEP.com, ROKU, and Fire TV.
Sponsors step up for Go Joe 25
These community-minded sponsors are helping us reach our fullest fundraising potential. Click on the sponsor to see their Go Joe greeting:
Looking for more ways to watch WNEP?
WNEP is now on Roku and Amazon Fire TV devices. Download the WNEP app today to watch Newswatch 16, WNEP's Home & Backyard, and Pennsylvania Outdoor Life live, replays, and video on demand.
Download the WNEP app to get breaking news alerts, weather, sports, and important stories at home or on the go.