WILKES-BARRE -- The 2016 general election was not without its problems. In Luzerne County, some voters complained that they picked one candidate and the voting machine picked another.
Voters say they never expected that when they would come to the polling place off North Washington Street in Wilkes-Barre to cast their ballot, that the process would instead cast doubt for them on the fairness of the election process.
Linda Chabala felt lucky she realized that who she wanted to vote for wasn't the selection that showed up on her voting machine.
"I'm just wondering how many of us don't catch it!"
Chabala says she went to vote for Republican Donald Trump at the Hollenback Fire Station in Wilkes-Barre, but the electronic voting machine flipped it, instead, showing a vote for Democrat Hillary Clinton.
"If she's going to get votes, let her get her right votes, but she's not getting my vote," said Chabala.
The judge of election would not allow our cameras inside the polling place, but says if there is a problem with the machine they shut it down and then call tech support to come here for help."
"They are touch-screen machines and occasionally there is an issue with calibration," explained judge of election Mary Ann Yonki.
The judge of election says before we arrived in the late morning, two people tried to vote for a particular presidential candidate but the machine switched it. Then, it happened a third time, while we were there.
"It shouldn't be casting votes if it's casting votes you're not picking," said Jo Graf.
Graf says she also tried voting for Trump and the same thing happen to her.
"The reason I'm voting for Trump is I'm completely convinced the polls are rigged."
The Luzerne County director of elections says everyone who realized their votes were incorrect was able to delete those votes and cast new ballots. She also admits that these machines do sometimes have problems.
"We experience calibration issues typically every election," said Luzerne County Director of Elections Marisa Crispell.
The Luzerne County district attorney says similar problems were reported at polling places in Drums, Avoca, Butler Township, and Jenkins Township.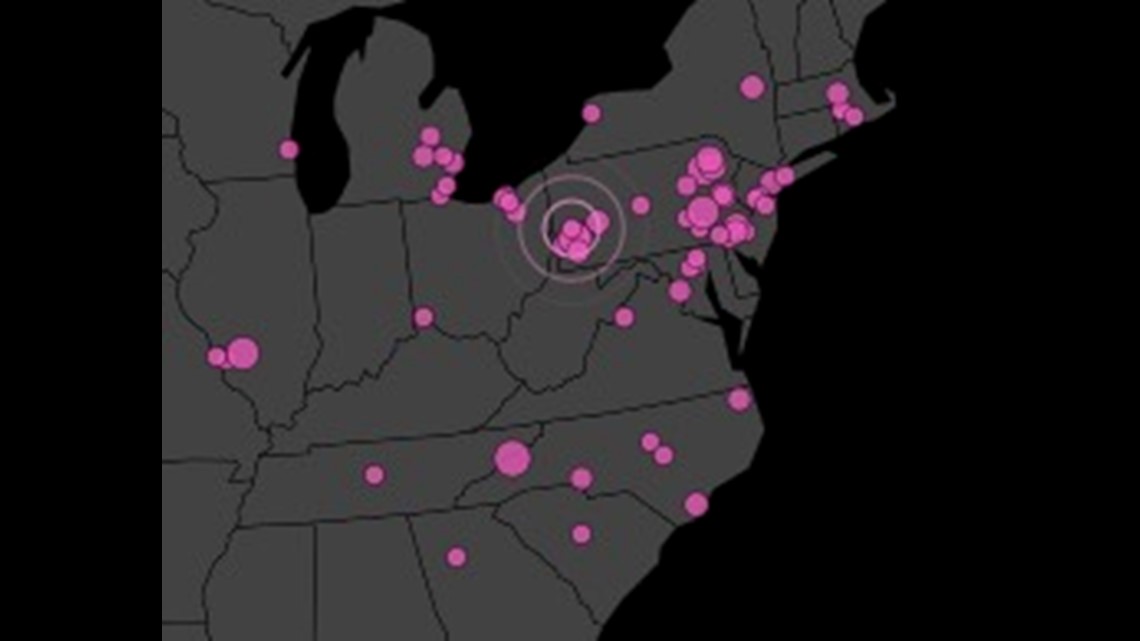 The D.A. says there is no evidence of anything criminal but the Scranton office of the FBI will handle in-person complaints for the next few days.
There are also about a half-dozen counties elsewhere in Pennsylvania that reported similar problems.
Voter turnout was heavy in many parts of Luzerne County. A seemingly never-ending line of people waited to cast their ballots at the Trucksville United Methodist Church near Dallas.
"I thought I was going to come here and be out in 30 minutes so I don't know who's working today," said Tony Fioci.
"I think it's ridiculous!" added Ann Kardell.
Some people waited for nearly two hours to cast their ballot.
"This is one major election that everyone's turning out for," said Fioci.
Election officials at his polling place said that by noon, nearly half of the 2,000 people registered there had voted. It's one of the biggest turnouts ever.
"I feel like it's my duty to wait, and it's our right to vote," said Sharon Lehman.  "I don't mind it, actually. I've seen a lot of friends and I'm actually making some in line, too."
Other places in Luzerne County saw a big turnout, including the Bear Creek municipal building off Route 115.
"Extremely heavy, our voting is extremely heavy, we're not having any problems, though," said judge of election Nancy Wright.