LAUREL RUN, Pa. — A truck crash Wednesday morning closed part of a road in Luzerne County.
The rig rolled over around 7 a.m. on Laurel Run Road in Laurel Run, near Wilkes-Barre.
The truck took down a utility pole and ended up in the front yard of a home with its contents of meat and seafood spilled out on the ground.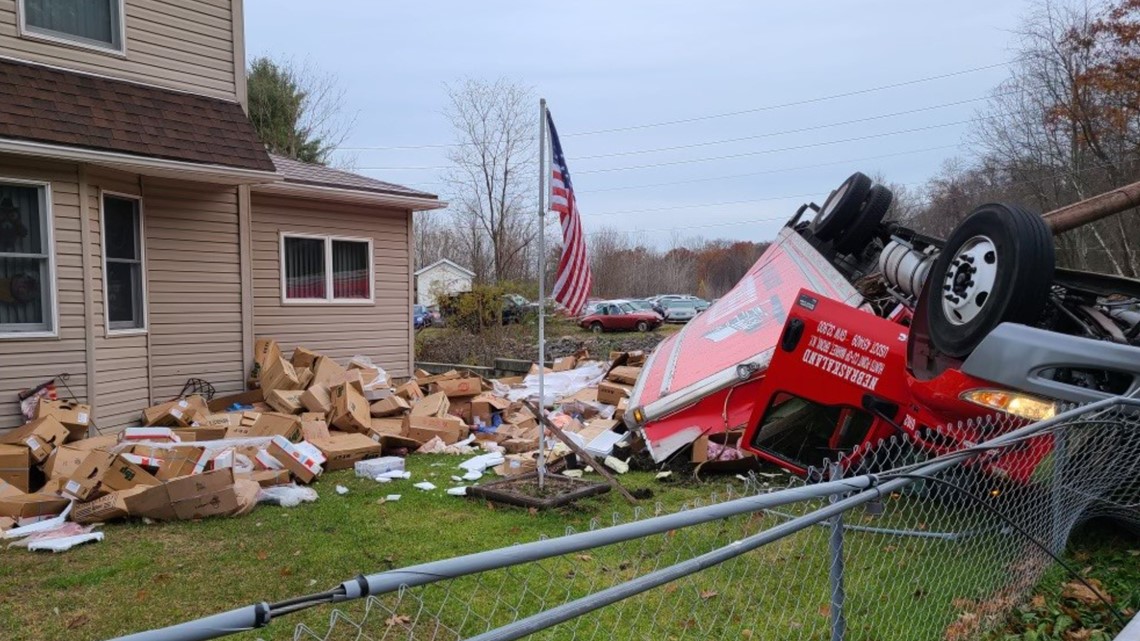 Salmon, sausage, and beef filled Marie Correll's yard after a tractor-trailer lost its load in the front yard. It crash-landed on its way down Laurel Run Road.
"I heard this loud noise; pictures fell off my wall. I looked out and a tractor-trailer in my yard, meat all over the place, too. The school bus was across the street; he just missed the school bus by 20 seconds," said Correll.
"It had to be scary for them because it's like it barely hit their house, you know, and it's like it's a heck of a way to get woken up in the morning," said neighbor Donna Oeller.
To the amazement of the people who live here, the driver made it out safely.
"My husband and somebody else pulled them out. He was disoriented, didn't know who he was, where he was. But he's lucky he's alive because the cab's completely, the side's all crushed in," Correll said.
Before the goods could be cleaned up, the truck had to be flipped over and towed away. Correll says this is the second time in eight years a big rig has crashed into her yard.
"Last time, it was a little bit closer to the road. It was still in my yard. We had over $100,000 of damage because it hit the wall that we had put in, and it was a mess, but this is worse."
Correll says she's tried talking to PennDOT to get more signage to keep trucks from ignoring weight restrictions to come down this road.
"We wanted flashing lights. They told us the borough had to pay for them. We don't have that kind of money."
She and her family fear this will happen again. They just hope if it does, it's another close call like this one.