WILKES-BARRE -- A billboard that says God loves sex was put up Wednesday and it didn't take long for people to take notice.
A non-denominational church in Wilkes-Barre put up the billboard and it is already doing what it was intended to do: attract attention, mainly because it says that God loves sex.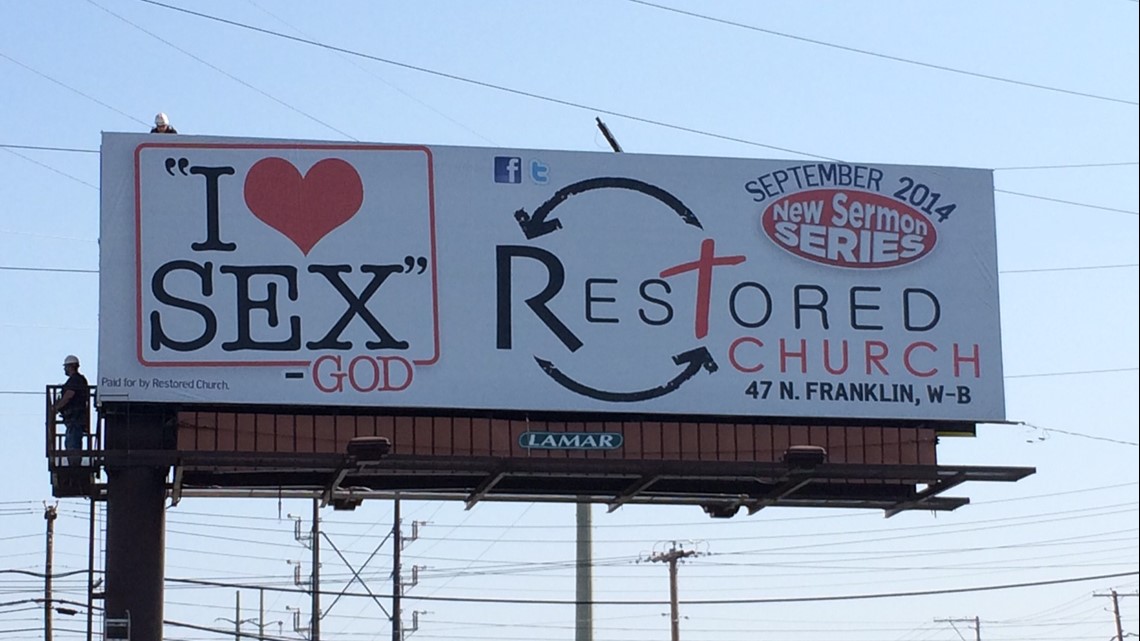 Some pastors had a plan when they ordered the design for this billboard along Route 309.
Restored Church is trying to bring in new visitors but some people driving by think this message crosses the line.
From baseball legends to solar panels and pharmacies, people driving from Mountain Top into Wilkes-Barre pass by several billboards.
But this new one along Route 309 is turning heads.
"It's awful strange. You might see something like that in Phoenix, but not here."
Rich and Joyce Smetana were surprised when they came back to Luzerne County from Arizona to visit family and saw a billboard with what they consider a questionable quote from God.
"Thinking maybe it's advertising the 309 Cinema, but it's actually advertising a church. I just thought it was a little off the wall," said Joyce Smetana.
The sign was ordered by Restored Church on North Franklin Street.
"It's in every single sitcom. It's on the radio. I mean, you go on any major news media outlet and there's stories about sexuality."
Pastor Dan Nichols says his congregation of 100 has been meeting for just one year. He hopes the billboard will draw new people to the church next month when the sermons will focus on sex in the bible's Song of Solomon.
"If the culture can be so bold, I think the church can be so bold and speak directly on the subject and be up front about it."
Some other religious leaders disagree. The pastor of Church on the Square wrote a letter to a newspaper editor, saying the billboard is misleading at best, and a gross misstatement at worst.
"It really doesn't rattle us when we get negative feedback. We really put a lot of thought into this," said Restored Church Pastor Tim Walker.
Pastor Walker says Restored Church is receiving a lot of praise and some heat for its choice of words.
Workers with Lamar Advertising who replaced a beer ad with the church's message say it's hard to ignore this billboard.
"This pretty much gets the point across. It gets you to look up at the sign," said Eric Durst.
The pastors at Restored Church in Wilkes-Barre say their focus is on the purpose of a healthy marriage and taking the shame out of sex.
The billboard is scheduled to remain along Route 309 in Wilkes-Barre for the next four weeks.