WILKES-BARRE TOWNSHIP, Pa. -- More than 24 hours after that EF2 tornado touched down in the Wyoming Valley, we are getting more information about the damage done, and the work it will take to rebuild.
This map shows the tornado's path and the buildings it hit and missed.
Officials put the estimated cost of the mess at least $18 million and said 23 businesses were damaged by the twister.
Emergency officials now say eight of those buildings will have to be completely torn down, including Panera Bread, Tovon Jewelers, America's Best, LA Nails, Sneaker King, Famous Footwear, Kurlancheek Furniture, and the U-Haul offices.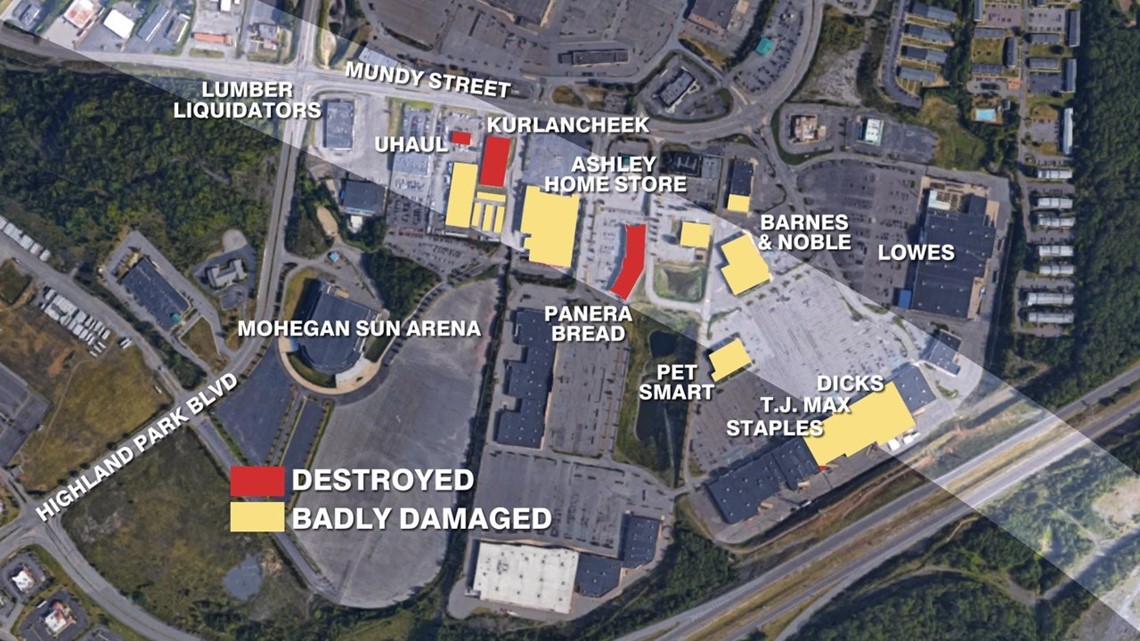 The chief says the other buildings have been deemed unsafe including; Dick's Sporting Goods, Barnes & Noble, TJ Maxx, Carters/Osh Kosh, Staples, PetSmart, Music Go-Round, Ashley Furniture, Polish Pottery, Stations Grill, Sprint, and U-Haul Storage.  This list is subject to change as more buildings may be determined to be unsafe.
"It's just crazy. I'm just glad nobody got killed and people that got hurt will get better," said Kim Maskowski of Wilkes-Barre.
In a news conference Friday, Wilkes-Barre Township's police chief said the twister with winds of about 130 miles an hour did at least $18 million in damage.
"Exactly what the dollar figure is, I won't know until we get insurance assessments back from the individual property owners but it's massive. It's actually massive," said Wilkes-Barre Township Police Chief Ronald Smith.
Of the 23 businesses damaged by the tornado, the chief says eight of those will have to be torn down.
"It's going to take a while to fully recover, a long while. And like I said, I don't think we'll ever fully recover, only because of, you know, the demolition that has to be done."
Power has been restored to much of the area and many businesses have started to reopen. Newswatch 16 spoke with employees of a nightclub that was damaged during the storm.
They are not only worried about themselves but others who may be out of a job, too.
"All of us here are concerned that we're not going to have a job anymore if they condemn our building as well," said Teasers employee Christopher Race. "I can only imagine financially all the businesses that are going to get closed down and all the jobs there. That's going to have a huge financial effect, I would imagine."
Mundy Street is expected to reopen Friday night. There will be no curfew but police will be out with extra patrols in the area.