LACKAWANNA COUNTY -- Could a system that detects wrong-way drivers now being used in Rhode Island be put into use in our area? The New England state is one of the few across the country that has installed a wrong-way driving detection system.
After all the recent crashes in our area involving wrong-way drivers, Newswatch 16 traveled to Rhode Island to see how its warning system works and to see if the same kind of device could prevent wrong-way crashes in Pennsylvania, crashes that tend to have tragic results.
Athena and John Frey of Monroe County are still grieving three years after their 25-year-old son Jason was killed in a crash caused by a drunk driver going the wrong way.
The wreck happened on Interstate 80 just over the Pennsylvania state line in New Jersey.
"He had his whole life ahead of him, his whole life.  It all got taken away. It's just not fair."
Jason Frey's crash happened in 2013.
Just since last October, there have been at least four wrong-way crashes on interstate highways in our area.
Among them was a crash in January on Interstate 81 near Clarks Summit.  Five people were killed by a wrong-way driver.
The wrong-way driver who collided with Jason Frey's car in 2013 presumably got onto Interstate 80 in the Stroudsburg area the wrong way by traveling up an exit ramp. Two "wrong way" and two "do not enter" signs are posted there.
But could more be done to stop wrong-way drivers?
"So we reviewed our crash reports and we found that wrong-way driving was indeed a problem in Rhode Island, as it is in most of the country," said Bob Rocchio, Rhode Island Department of Transportation.
If someone enters an off-ramp in the wrong direction, the driver is notified by flashing wrong way signs. If the driver continues past the signs, a picture is taken and an alert is sent to the transportation command center and to state and local police.
Overhead highway message boards are also immediately activated to alert oncoming drivers that a wrong-way driver may be approaching.
"In almost a year's time since we've gone live with these systems, we've had 47 detections of wrong-way drivers and not one of them resulted in a crash. They're corrected. The drivers have corrected course in all situations."
There are 25 of them in place now in Rhode Island with the intention of installing 25 more. But they are not cheap.  Each one of these costs $25,000. To pay for them, Rhode Island used federal money that is available for highway safety improvement projects like this. The same kind of money is also available to Pennsylvania, $92 million annually, but the commonwealth believes that highway safety money can be better spent on other things, such as improving the safety of railroad crossings.
"We're not closing any doors here, but again, in using federal dollars we've got to make a good case of why the added expense of electronic signs would be used," said PennDOT officials Rich Kirkpatrick.
But for much less cost, Pennsylvania could also take some other steps that Rhode Island did, such as doubling up on warning signs along exit ramps, and lowering warning signs from seven to four feet so the signs are more at eye level with drivers -- and potentially more noticeable by drunk drivers.
Studies show impaired drivers only focus on the road directly ahead.
Any added measure is too late for Athena and John Frey, but they wholeheartedly believe that if wrong-way driving detection systems are out there to be used, every state should have them.
"They save lives.  My son would still be here. He'd still have his life.  People would still have their lives. Their families wouldn't be in turmoil."
PennDOT in Harrisburg stresses that to implement a wrong-way driving detection system and to convince the feds to pay for it, you also have to show crash history.
Pennsylvania's looks like this from 2010.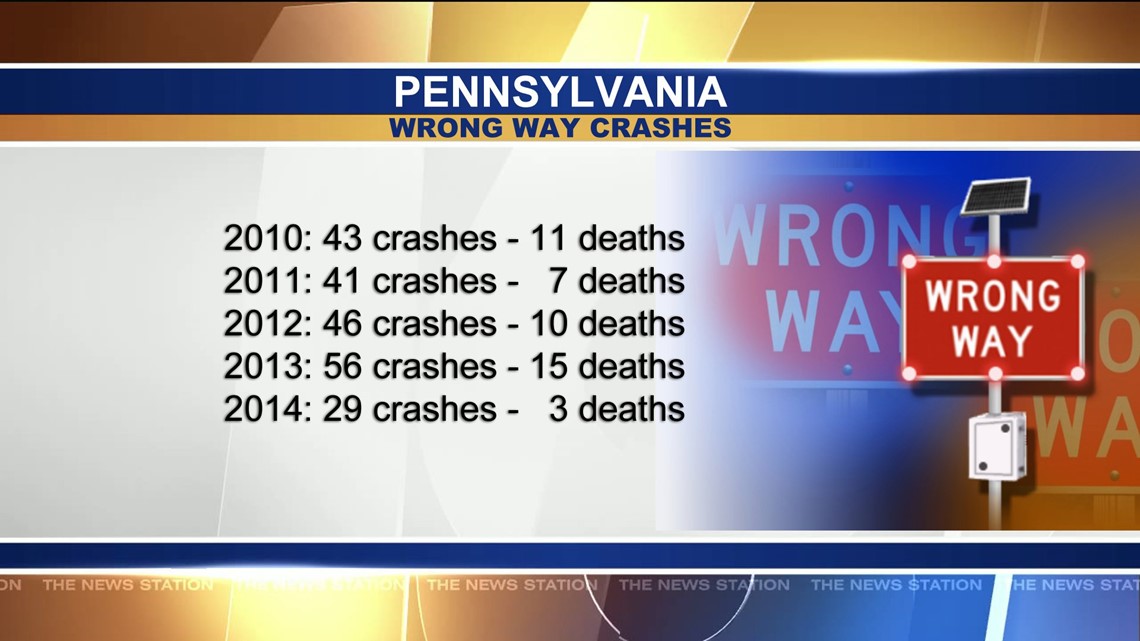 With the exception of 2014, between 40 and 60 crashes occurred every year, with a high percentage of them being deadly. Most were caused by impaired drivers.
From 2010 to 2014, the small state of Rhode Island had 10 wrong-way crashes with 13 fatalities.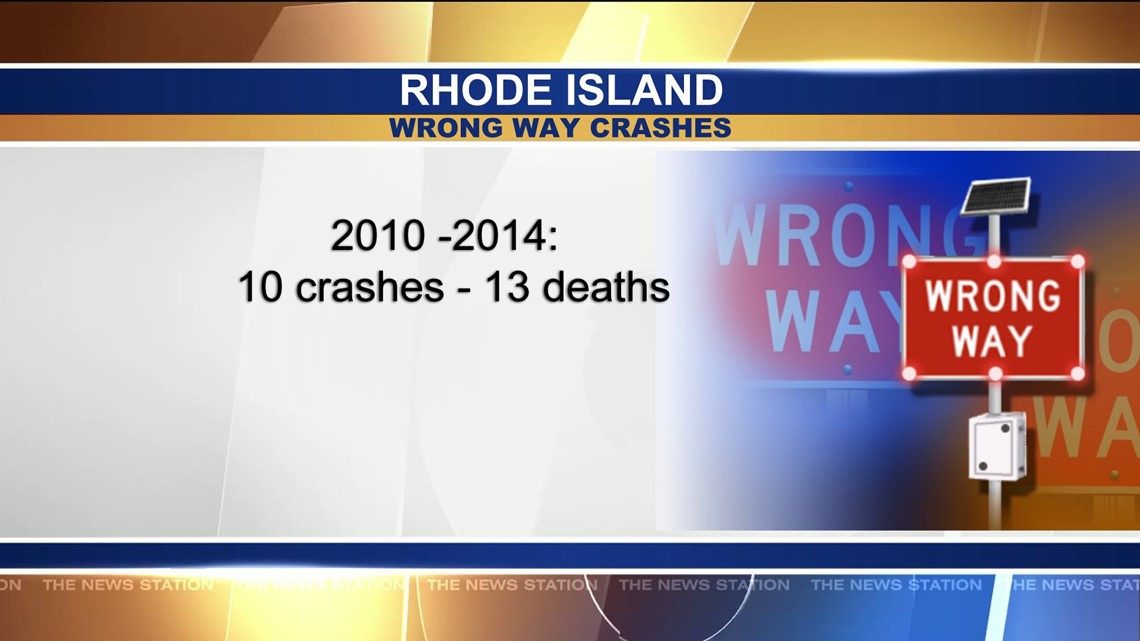 It was statistics like these that helped Rhode Island decide to install its wrong-way detection system last year.
Rhode Island believes one wrong-way crash is too many, and if it can be avoided, then every possible measure should be taken.
For more information, visit the following sites: