SCRANTON -- The state auditor general blasted one of the largest school districts in our area, comparing it to a compulsive shopper, recklessly spending more than its income.
In a news release about his audit of the Scranton School District, Auditor General Eugene DePasquale said there is too much finger pointing and no one taking responsibility for anything.
The financial audit looked at the district from July 2012 through June of 2016.
DePasquale said he found to be "by far the worst debt situation of any school district in the state."
DePasquale said the Scranton School District ran an operating deficit of $25 million over four years, driven mostly by salaries, benefits, and pensions.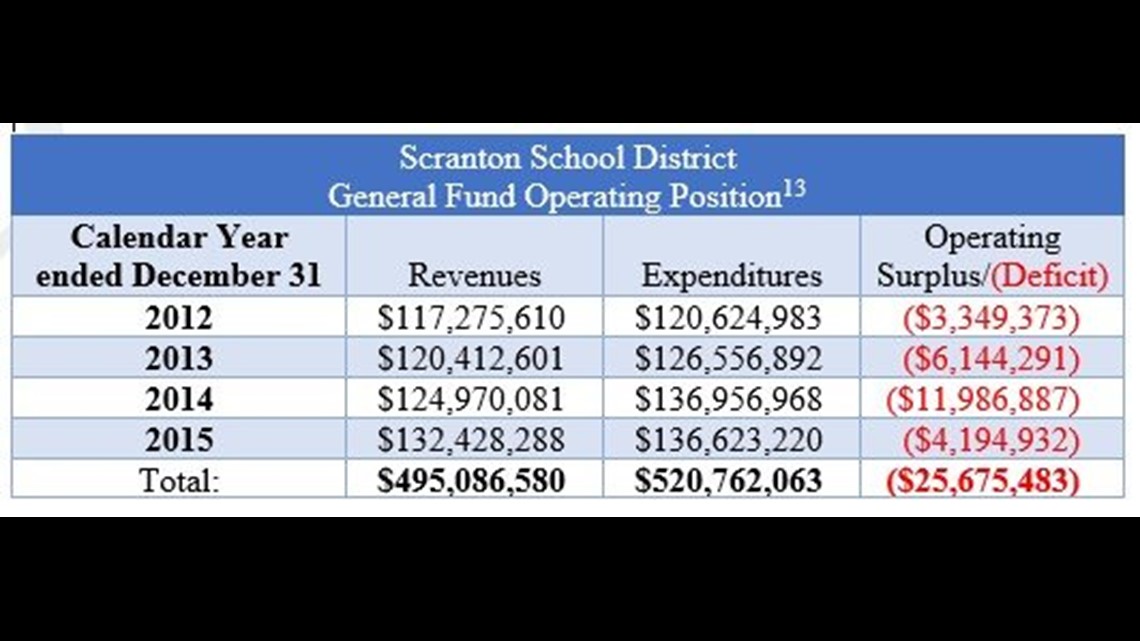 He said revenue isn't a problem, saying that is up 13 percent.
DePasquale said the problem is wasteful spending and general mismanagement, including retirement incentives rarely found in other districts even for employees with less than 10 years of service.
He pointed out a mechanic who didn't even work for the district got paid $672,000 over six years, and he and his wife got district-paid health care.
DePasquale laid out things he believes contributed to that debt and in no uncertain terms, said a lot needs to change to avoid a state takeover, using words you rarely hear from an elected official.
"It is long past time for the Scranton School District, administration, the board, and the staff to start acting like responsible adults and, to be blunt, get their heads out of their asses, and focus their energies on doing what is right for the district's 10,000 students and the thousands of taxpayers," DePasquale said.
DePasquale called it one of the worst school audits he's ever seen and told us why he thinks the district is $25 million in debt: years of overspending and failing to find lower bids of a bus contract.
A transportation company owned by businessman Louis DeNaples has held the contract for years and that DeNaples Transportation has been receiving a seven percent raise on that contract for more than a decade that increase was never approved by the school board.
School board members we talked to say they never even knew about it.
"I give district officials and the board an F for failing their oversight of a $26 million student transportation contract. If you want to know why an F, I'll tell you why an F: because there isn't a grade lower," Cy Douaihy said.
DePasquale also found that a mechanic who often did work on district vehicles had been receiving school district health and dental coverage for more than a decade. The insurance was dropped when the state started asking questions.
"The things he uncovered, really, we have been trying to uncover ourselves in the past two years. What the audit has done is to place a focus on those things we really need to pay attention to and to begin to address. They're difficult to do, but they must be done," said Scranton School District Superintendent Alexis Kirijan.
Kirijan attended the news conference. Only one board member was there. Cy Douaihy will leave the board later this year.
"The new board that will be coming in after the election. They have to make hard decisions and they have to be prepared to take the criticism from it," Douaihy said.
The newly formed Scranton School Board will vote on a 2018 budget in January. The district officials we talked to say layoffs may be unavoidable. They weren't willing to comment on whether they think school taxes in the city of Scranton will go up.
The auditor general said he is now referring his audit to the IRS and Pennsylvania Department of Revenue due to some of the discrepancies he found.