SPRING BROOK TOWNSHIP, Pa. -- A small plane was forced to the ground along a roadway in Lackawanna County Tuesday morning.
The emergency landing happened around 10:30 a.m. near Moscow.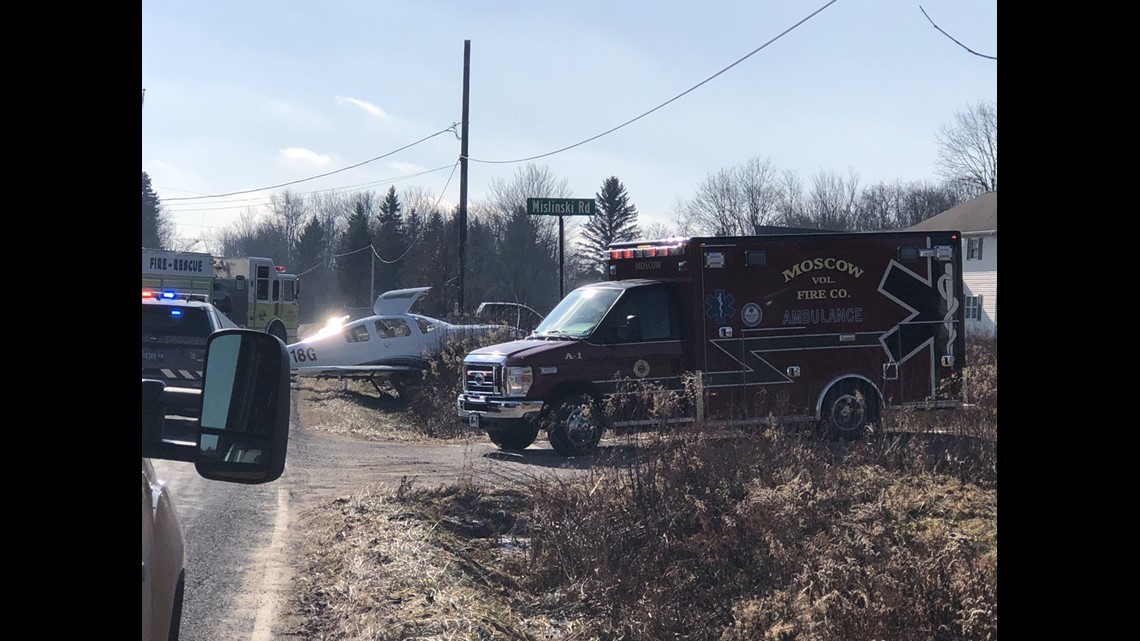 The pilot used a field along O'Hara Road in Spring Brook Township as his runway while making an emergency landing.
The plane will stay there until at least Wednesday, as the Federal Aviation Administration looks into what went wrong.
Neighbors in Spring Brook Township say when they saw the flashing lights, they thought a car had crashed on O'Hara Road. They were surprised to see it was a plane.
The pilot made an emergency landing in a field before spinning out and ending the trip in a roadside ditch.
"The first thing I thought was, 'I hope that guy is OK'. I really do. I mean, it's a soft landing if you land in the field, but not in the road," said Audrey Bogdanski.
The pilot, who is from Lancaster County, was not hurt. He told first responders he had an engine problem and used the field as his emergency runway.
O'Hara Road stayed closed for much of the day as the Federal Aviation Administration started its investigation.
"My son called me and said, 'I heard a plane landed on O'Hara Road.' Then my oil guy was supposed to come and he called me and said they can't deliver because the road is closed," Arlene Barrett said.
The pilot was on a somber flight from Philadelphia to Binghamton, New York. He volunteers his time and his plane for an organization called Angel Flight East.  He was delivering a baby's remains back home.
Officials with Angel Flight East say the remains were unharmed and picked up by the family's funeral director and driven back to New York State.
While this might seem like a once-in-a-lifetime sight here in Spring Brook Township, neighbors say it's actually happened before. About 40 years ago, a plane landed in this same field.
"We're not far from the airport, actually. You see a lot of planes making their final descent from here. He might have been trying to make it to the airport and ran out of gas or something," Bogdanski said.
According to the Federal Aviation Administration, the pilot reported having engine trouble. He may have been trying to land at the Wilkes-Barre Scranton International Airport. FAA officials say they are still investigating the emergency landing.