DUNMORE -- The Department of Environmental Protection wants more information from Keystone Sanitary Landfill about plans to expand the dump and what it will mean for the environment and the scenery.
If you drive past or live near Keystone Landfill in Lackawanna County, you've probably noticed how the dump has created its own mountain range.
On Friday, we learned that the DEP sent a letter this week to Keystone asking for more information on how the landfill might change the landscape even more and how bad the dump could smell if it is allowed to expand.
Keystone landfill it is asking to accept garbage for 50 more year,s which would make the pile of garbage here higher.
But before the DEP gives approval, it has a lot of questions. We read through those questions and it shows the DEP has the same concerns as many people who live near the landfill.
Keystone's proposed 50-year expansion has been a polarizing issue in Dunmore and neighboring Throop for more than a year.
With people displaying whether they're for or against in their own front yards, many people are concerned about how 50 more years of trash could affect their quality of life.
The Department of Environmental Protection says it is listening.
"We've heard these complaints before," said DEP official colleen Connolly. "We're asking for more information about these issues. Specifically, we'd like to have longer term drawings of the proposed expansion. They only gave us drawings and sketchings for the first 10 years. We need to see the entire drawings for the life of the expansion."
Keystone officials have said that plans are to fill in the valleys in Keystone's current mountains of garbage and then add some height. Keystone spokesperson Al Magnotta says it's tough to know just what the landfill will look like in 50 years.
"There's no way anybody is going to be able to prepare a set of plans that says on October 15, or whatever today is, of 2025, you're going to be in this location."
The anti-landfill group Friends of Lackawanna took a crack at it.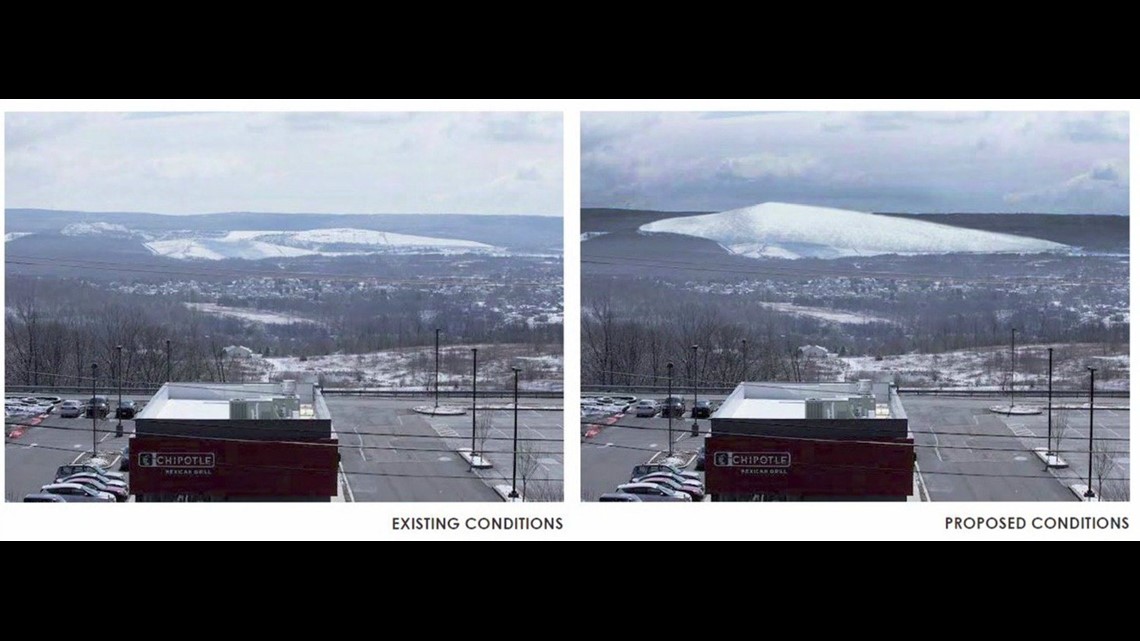 DEP also wants to know how that growth could affect the air quality and aesthetics in public places like Sherwood Park in Dunmore, and Dunmore Reservoir's hiking trail.
"From what I've observed, I think the visual aspect is a primary concern, of not only the residents but the department. And we're evaluating some mitigation plans that will hopefully address their concerns," said Magnotta.
The people who have been most vocally against the landfill expansion aren't satisfied.
"For us, there's not a happy compromise, you know, we've done our fair share for society and enough is enough," said Michele Dempsey of Friends of Lackawanna. "So, right now we feel that more harms are being added to our community and no benefits are really coming back from this and it's time to stop, enough is enough."
DEP officials say they are about halfway through the decision making process. It could be the middle of 2016 before they rule whether or not Keystone Sanitary Landfill will be able to expand.