Staffing concerns at Berwick Hospital Center
Employees at a hospital in Columbia County are raising concerns about safety following a closure and a bankruptcy filing.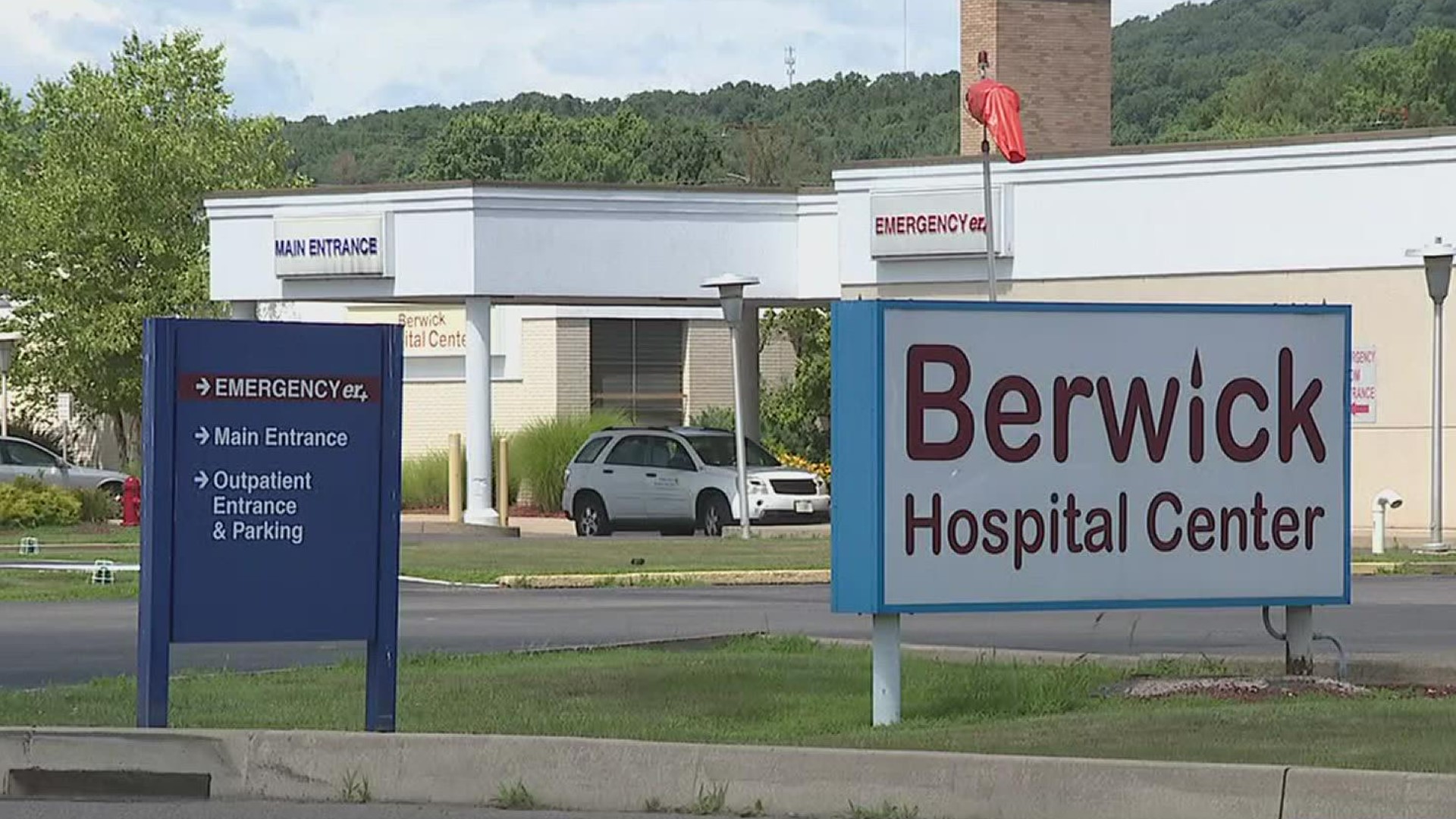 The behavioral health unit at Berwick Hospital Center is the only portion that survived the closure as the owner is turning it into a psychiatric facility.
But employees who remain have reached out to Newswatch 16, saying they are concerned for the safety of both themselves and their patients.
Newswatch 16 first told you about the owner's plans to shut down the acute care hospital in Berwick over the summer.
Those plans were then hastened in September when the state Department of Health forced the hospital's emergency room to close due to a lack of appropriate staffing.
Employees raising concerns
:
Newswatch 16 spoke to two hospital employees who say that problem continues in the remaining psych unit. It's permitted to hold 14 patients, but employees tell us the current number is less than 10.
The employees who contacted Newswatch 16 wished to remain anonymous and spoke to Newswatch 16 over the phone.
One employee said, "It's just been an increasingly bad gut feeling like things aren't going to get better. There's even some days where there's an RN all by herself, and there's no aides scheduled at all. So in an instance where a patient becomes combative, we're going to need more than just one staff member there. Because the patient could easily escalate, and somebody could get hurt."
Another employee said, "We normally have two licensed nurses on and a nursing assistant or a tech. But there are some shifts coming up scheduled where there are no - *zero* - licensed staff scheduled for at least a four-hour block. Most of the time, there's just one licensed person scheduled, sometimes with no aides or techs as well. There is no chance of a nurse getting a break because there's no extra staff around to give them a break."
Sharma files for Chapter 11 bankruptcy protection
:
She had previously filed for bankruptcy protection for the affiliated Berwick Clinic Company. Most of those clinics shut down abruptly soon after that filing.
It's a federal law in these cases for the bankruptcy court to appoint what's called a PCO, or a "patient care ombudsman," to monitor the quality of care at the health care facility.
In her latest report filed in court a little over a week ago, the ombudsman appointed to Berwick Hospital shared concerns similar to the ones employees told us about.
She wrote: "[Sharma] does not have sufficient full-time and part-time staff to fill all positions in each shift every day. Currently, [Sharma] relies on staff working overtime or extra shifts. This is not a long-term solution. It is the opinion of the PCO that [Sharma] needs to continue to hire staff for the unit, that the patient census should not increase beyond the current number, and the census cannot increase to 14 without a substantial number of new hires."
Sharma had previously told Newswatch 16 she planned to expand the facility from 14 beds to 39. That was last month. We reached back out to her. She now says she wants to eventually have up to 53 beds, but "licensing, staffing, and funding issues would need to be finalized before that would happen."
In terms of funding, Sharma says the hospital can operate without more of it for the next four to six months.
Sharma says she needs to get more patients in order to break even and will turn a profit if she can "responsibly increase" the number of patients to the max capacity of 14. But she acknowledges that can only happen if she hires more staff which also takes money.
In a statement sent to Newswatch 16, which you can read in full below, Sharma also said, "There is a nationwide shortage of nurses, and Berwick Hospital is no exception. We are fortunate to have dedicated employees who have always stepped up in times of need. Patient safety has always been our utmost priority, and we will not sacrifice it at any cost. If it is ever a concern, the administration will take immediate steps."
Sharma says the hospital is working to hire new staff, but an employee we spoke to says, at this point, there aren't enough experienced staff members left to train any new people they would hire.
The state Department of Human Services, which regulates psychiatric facilities, tells Newswatch 16 there are no required staffing ratios for inpatient facilities.
Sharma's full statement
:
Sharma's full statement to Newswatch 16 is below:
"Berwick Hospital will fill a need within Pennsylvania for a mental health facility in light of other closings in the area. We realize that the small community hospital is challenged throughout the country, however, we have been able to turn around other small community hospitals and believe we will be able to do the same in Berwick. For instance, when our family took over Pontiac General Hospital in the suburbs of Detroit, Michigan, we had a tremendous amount of debt and only a handful of patients. Today, Pontiac General Hospital is thriving considering the financial challenges all small community hospitals face, and provides hundreds of jobs for the community. While we are aware there is some hostility in the community to expanding a mental health facility in Berwick, it is sorely needed and supported by the State of Pennsylvania. With the current number of patients, Berwick Hospital is able to operate without additional cash infusions for 4 to 6 months. Once we get the number of patients up slightly, we will be able to break even, and will be able to operate at a small profit if we can responsibly increase the number of patients up to our current license maximum of 14, but only if we are sure we have the needed staffing. We are in talks with a nursing school to start a nursing education program, and would like to start a psychiatric residency program so that more psychiatrists can be trained for the state of Pennsylvania. But we are realistic also, and realize we cannot achieve these goals without the continued support of the community and our staff. We are discussing with the State of Pennsylvania about increasing our ability to have up to 53 inpatients, however, licensing, staffing and funding issues would need to be finalized before that would happen. Berwick Hospital is required to maximize the value of the hospital for the benefit of its stakeholders, and is sending out bills to patients to collect what it can. If anyone has received a bill and needs additional information, or would like to talk about payment terms, please contact us via email at billing@berwickhospitalcenter.com. Thank you."