PENN FOREST TOWNSHIP, Pa. -- State police have released pictures of the tractor trailer they want to find after a runaway tire hit another vehicle Friday afternoon on the Pennsylvania Turnpike in Carbon County.
Troopers say the truck was headed north around 4:30 p.m. Friday when a tire and partial axle from a forklift it was hauling went airborne and smashed through the windshield of an SUV in the southbound lanes. It happened between the Hickory Run and Lehighton exits.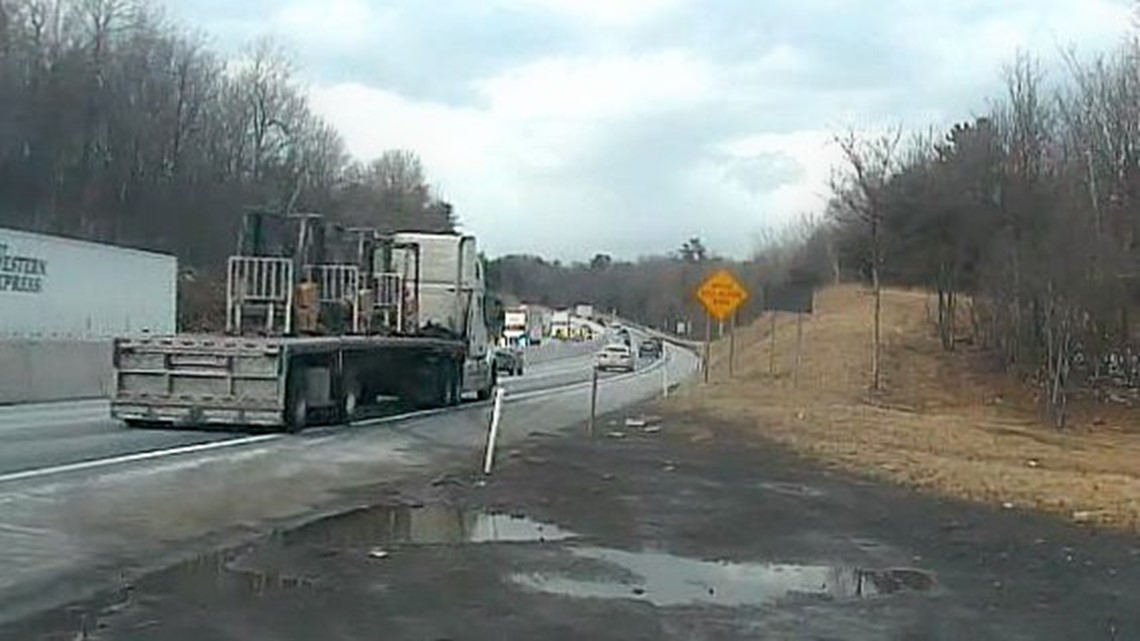 The tire crashed through the windshield of an SUV carrying a family of five. The mother, Heather Griswold, 34, and her 7-year-old son Davis had to be flown to the hospital. The driver was also injured by broken glass.
Bill Sparasico of Jim Thorpe says something similar almost happened to him when he was driving behind a moving van.
"The hand truck was hanging out of the back, and I'm trying to get him, couldn't get him," said Sparasico. "He was going 60 miles an hour. It flew out. Thank God it didn't hit anybody."
This is the fourth time tires have gotten loose from vehicles in the last two months. On February 11, a woman driving on Interstate 81 in Moosic got hit by a runaway tire. On January 28, a tractor trailer's tire went through the windshield of a Greyhound bus on Interstate 380. And just days before that Newswatch 16 caught a tire flying off a dump truck in Greenfield Township.
"It's crazy. It happens too often," said Sparasico.
State police say aside from staying alert while behind the wheel and paying attention to surroundings, there's really not that much you can do to safeguard yourself from something like this.
People we spoke with had ideas on how to stop it from happening at all.
"I'd probably try to figure out who's responsible, with trucking companies, and make sure they're following all the protocols. That's ridiculous, four times," said Mike Clark from Jim Thorpe.
"There should be incredible fines for the companies if that happens. That will kill two birds with one stone. That will keep them alert and make them keep all their equipment safe and secure," said Sparasico.
State police say the truck is white and has a skull-type decal on cab's right side.
Anyone with information should call state police.