MAHONING TOWNSHIP -- Teddy bears, angels, and flowers are among a memorial that is growing on Beaver Run Drive near Lehighton in the spot where Vahnne Gower, 9, lost her life in a fire early Saturday morning.
The flames and smoke also left her father Troy and brother Trey in critical condition.
"I can't imagine. I can't put myself in those shoes. I don't know. I don't know how you go on," said Susan Page of Palmerton.
Page searched her home for items the Gowers could use, packed them up and brought them to a home in Lehighton. She wasn't alone.
"I definitely couldn't imagine losing a child, so that is one of the main reason we want to help out," said Bill Benninger of Lehighton.
Donations are also being collected during business hours at the Mahoning Valley Cinema.
"When people come in, they stop and look at it, and they kind of spend a few minutes staring at it and talking among themselves. I have even heard little children saying, 'Mom, can we go get donations?'" said Jolene Ahner, assistant manager.
A couple came to watch a movie but saw the collection and immediately decided to donate.
An online fundraiser is also underway on Facebook.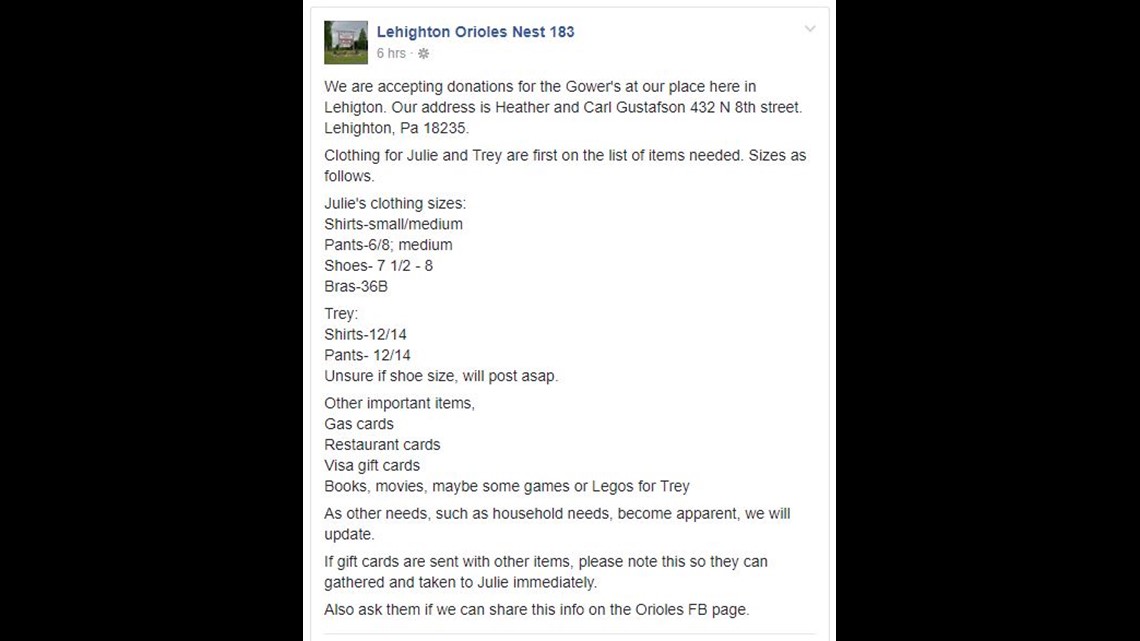 A state police fire marshal is expected back out on Monday to look for the cause of the fire, but troopers say at this point there is no sign of foul play.