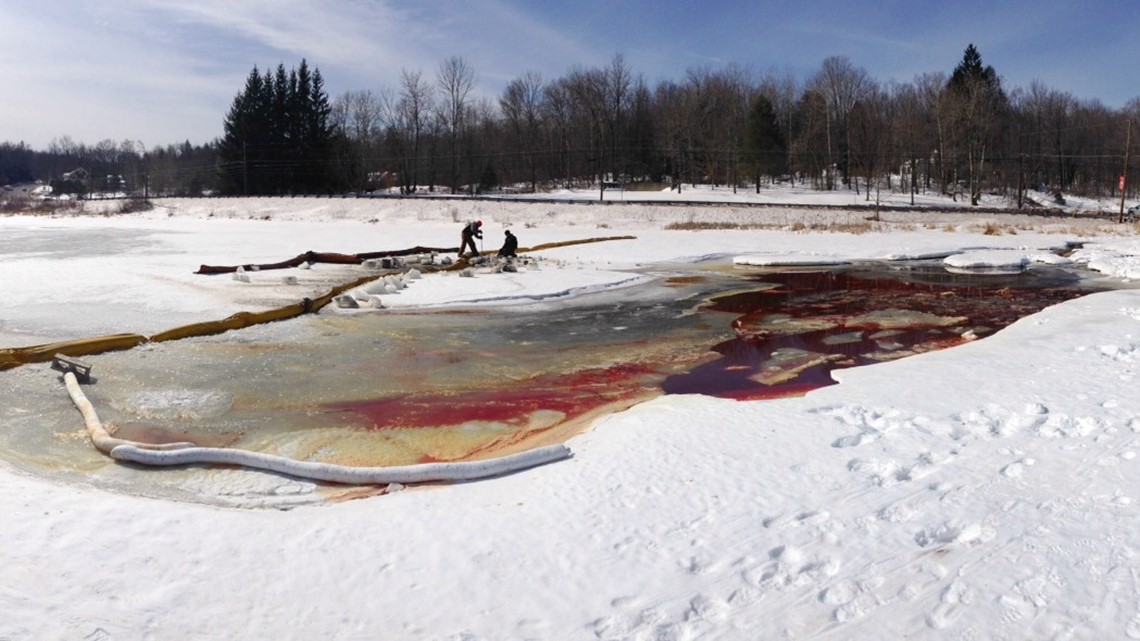 LAKE ARIEL -- Crews are trying to find the source of oil in Lake Ariel, according to state officials.
The spill was discovered late Monday in the lake in Wayne County.  People could smell the fumes of oil before realizing it had turned part of the lake red.
Now that the spill is contained, crews continue to look for the source.
People who live around the lake say they smelled the problem before they discovered it in the lake.
A hazmat response team was chipping through the thick ice on Lake Ariel, working to stop the spread of home heating oil that spilled near the lake and found its way in.
The waters were turned the color of the dye in that oil and you could smell it the closer you got to the lake.
"We had a spill up above, followed the ditch line down cross the road and got in the lake here," said emergency management official Jerry Peet.
Peet is with Lake Township. He and township supervisors took a look at the mess in the lake and said no one can say yet how much oil spilled.
"You take a little droplet of oil and drop it on water. It spreads out a lot so it's very hard to tell how much is down here."
The Pennsylvania Department of Environmental Protection spent most the day investigating the spill focusing on the nearby Howe Oil Company. Officials say the oil company had a delivery Friday and a tank was overfilled.
A clean-up crew was called in and according to investigators, believed they had the oil spill contained.
DEP officials say they weren't notified until late Monday when the oil was discovered in the lake.
Heavy machinery was used to dig down, looking for how the oil got into underground pipes and then into the lake.
Everyone in Lake Ariel around the area of the oil spill has well water, including Liberty Restaurant and Buffet and Kay's Restaurant.  Both restaurants and homeowners will have to monitor their water to make sure it's not contaminated by that oil spill.
Silvia Rivezzi has lived at Lake Ariel her whole life and hopes that however the spill happened, something will be done to keep it from happening again.
"I think it's just a nice place, used to swim here as kids."
The president of a group that owns the lake would only say he wants to make sure the spill is cleaned up properly.
A spokesperson for DEP says the oil company and or the trucking company that delivered the oil late last week will likely get what's called a notice of violation, although right now, the exact cause of that spill and how much was spilled is still under investigation.