HARRISBURG -- State lawmakers are considering making marijuana legal to treat illnesses such as epilepsy and multiple sclerosis.
State senators could vote on a bill as early as next week. It would have to clear the State House. Republicans control both houses and there are some who are against making cannabis a prescription for Pennsylvania.
When 10-year-old Lila Chernavage comes home from school near Wilkes-Barre, she's often upset. Her mom, Judy, said Lila has suffered from seizures since the age of four and even needed to have part of her brain removed, the part that controls her emotions.
"She just sits there at the window and she wants to play and the kids don't want to play with her," said Chernavage.
Lila is out of options having tried numerous medications to cut down on her seizures and emotional problems, according to her mother. And now, both hope cannabis, better known as marijuana, can help even a little.
"There's something potentially for her and other children. Why can I have that for her?" questioned Chernavage.
"It's very difficult to make an argument that sick people shouldn't get medicine that should make them better," said Senator Daylin Leach, a Democrat from Montgomery County who is a co-sponsor of Senate Bill 3.
Yet, this is the second time the bipartisan bill has been proposed in Pennsylvania that would make medical cannabis legal to treat everything from cancer, to seizures, to PTSD, HIV/AIDS, and more.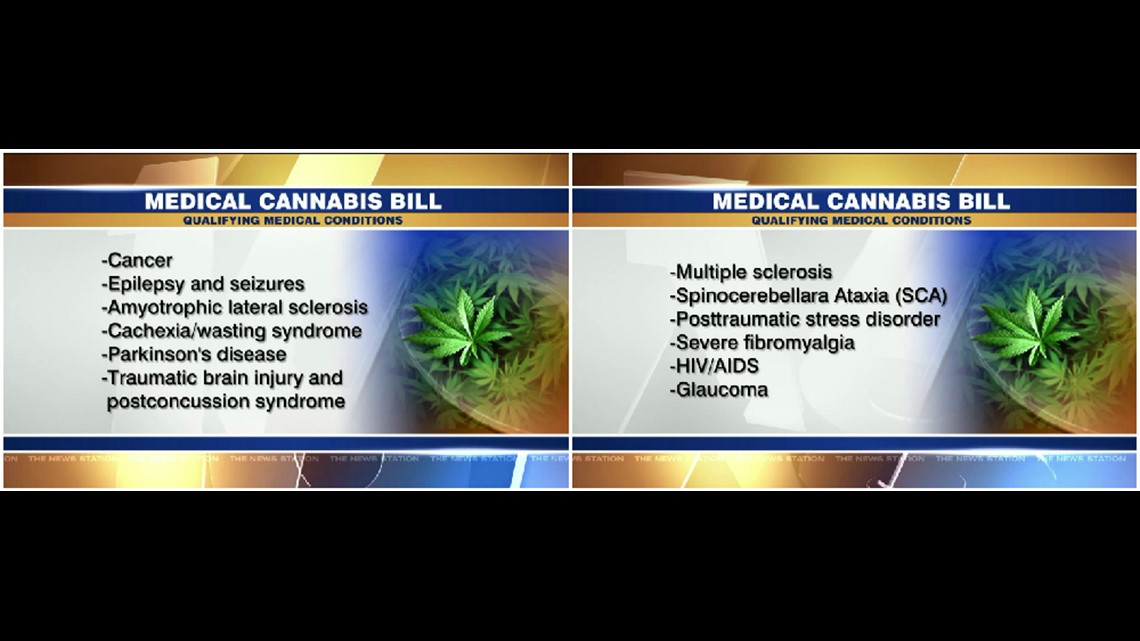 The Senate passed the bill last year and is poised to do it again.
23 other states have already legalized marijuana for medical purposes. It's been law in California for nearly 20 years.
Proponents of medical cannabis have had to make concessions for the house in hopes the bill will pass, such as removing vaporization from the ways in which patients could use the drug. Representative Matt Baker is chair of the Health Committee in the House which has held a series of hearings on the issue and so far, he's against it.
"I would prefer that the medicine that's approved be FDA approved, be prescribed by a doctor, and dispensed by a pharmacist," said Baker, a Republican who represents parts of Bradford and Tioga counties.
Baker's campaign records show in one year he received about $22,000 from pharmaceutical companies and the health care industry. Baker received contributions from Pfizer, Merck, Rite Aid PAC, and more: companies that could benefit from Baker's call for more research and also have competing drugs already on the market.
"You can't jump over it and just start providing this without knowing if it's safe," said Dr. Amy Brooks-Kayal.
A check of the society's corporate partners found grants in the hundreds of thousands of dollars from pharmaceutical companies and laboratories.
"We can't get the medicines to treat people with any kind of disorder without partnering with the pharmaceutical industry," Brooks-Kayal added.
Meanwhile, Baker said he fears legalizing medical cannabis will open the door to full-blown legalization and doesn't believe that nearly 90 percent of Pennsylvanians want it law.
"When you call something medicine in a poll, you predispose that it's a fact."
"Have some empathy. Odds are 1 in 26 people will have a seizure in their lifetime. Could be you, could be your child," said Chernavage.
Even if medical cannabis gets approval this year, lawmakers said it could take months, perhaps more than a year before patients can start using the treatments.
Meaning in Pennsylvania, children like Lila and parents like Judy Chernavage have to wonder why something that many believe can help is still illegal.
"It basically breaks down to common sense, there's a medication available to save lives, to save my daughter. Why can't she have it?"