Washington, D.C. — Yes, that is 1.3 billion, with a "b."   With the second biggest eating day of the year after Thanksgiving upon us – Super Bowl Sunday – there's no hotter time of year for chicken wings, America's new favorite party food.
According to the National Chicken Council's 2016 Wing Report, 1.3 billion wings will be eaten next weekend leading up to and during Super Bowl 50, as fans watch the Carolina Panthers and Denver Broncos battle for the Lombardi Trophy.  That figure is up 3%, or 37.5 million wings, from last year's big game.
Let's break it down the numbers for you:
1.3 billion chicken wings is enough for every man, woman and child in the United States to have four wings each.
If 1.3 billion wings were laid end to end, they would stretch from Bank of America Stadium in Charlotte, North Carolina to Sports Authority Field at Mile High in Denver almost 53 times.
That is enough wings to put more than 600 on every seat in all 32 NFL stadiums (Not including London, of course).
Weighing in at about 162.5 million pounds, 1.3 billion wings weigh 6,325 times more than the combined weights of the Panthers and Broncos entire 52-man rosters.
If one of the three Power Ball winners spent his/her entire lump sum on chicken wings (which we think they should), they could buy about 123 million lbs of wings, or only 76% of the 1.3 billion wings eaten Super Bowl weekend.
3 billion wings would stretch 10,468 times from the deepest part of the Marianas Trench in the Pacific Ocean to the surface.
"Any way you measure it, that's a lot of freaking wings," noted Tom Super, senior vice president of communications at the National Chicken Council.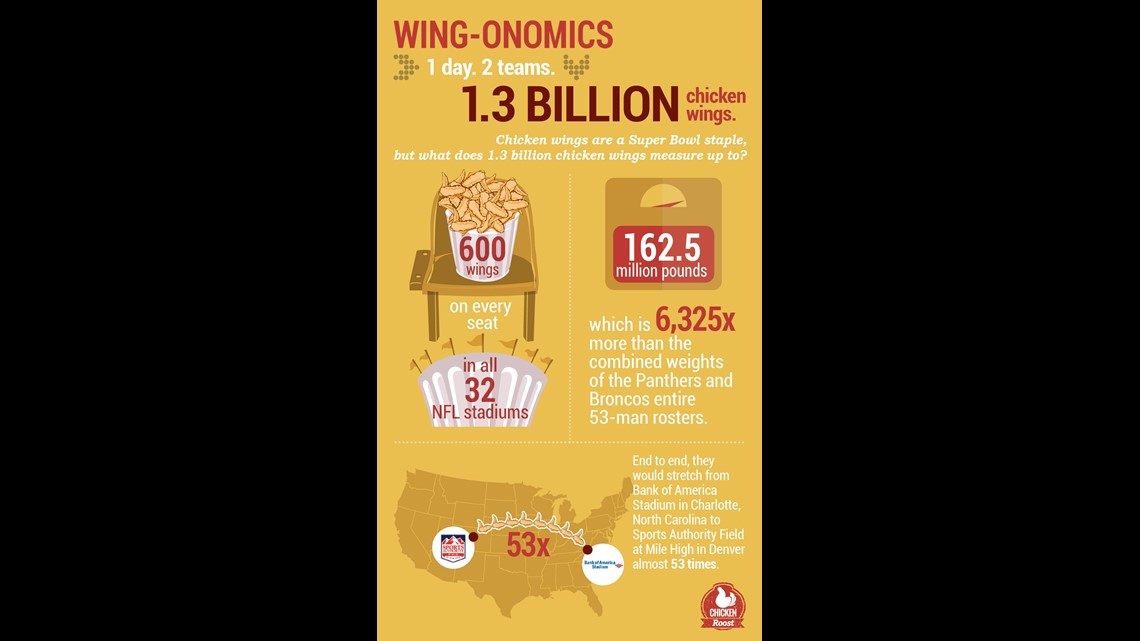 Buffalo Chicken Wing History
Deep-fried chicken wings have long been a staple of Southern cooking.  But the concept of cooking wings in peppery hot sauce was born in 1964 at the
, when co-owner Teressa Bellissimo cooked leftover wings in hot sauce as a late-night snack for her son and his friends.  The guys liked them so much that the Bellissimos put them on the menu the next day.  Served with celery slices and bleu cheese sauce, "Buffalo Wings" were an instant hit.

Chicken Wings and Football – A Love Story
The rise of the chicken wing and its correlation to American football all had to do with timing.
Cooking the whole bird was trendy in the sixties and seventies, but in the eighties U.S. consumers started preferring boneless-skinless breast meat, and wings became an inexpensive byproduct for chicken producers.  Restaurants and bars realized they could charge low prices for the relatively inexpensive  protein, and due to the spicy/salty nature of the sauce, they discovered that beer sales would go through the roof when customers ate wings.
At the same time, sports bars with multiple TVs and satellite dishes were becoming more and more common in America thanks to rapidly developing technology; and the most popular sporting event to watch with friends in bars is football.  Wings were easily shareable and affordable, a great "group food" to eat with other people, and are the perfect pairing with a pitcher of beer.   And so the pigskin-chicken wing bond was born.