INDIANAPOLIS, Ind. -- A woman suffered a heart attack during a New Year's Eve celebration at a downtown Indianapolis bar, but a customer's complaint about the incident has fueled a social media firestorm.
According to a manager at Kilroy's, a 70-year-old woman suffered a heart attack while celebrating with her family.
A customer took to the bar's Facebook page to complain that the response to the incident ruined her holiday celebration. The woman said she believed someone had suffered a drug overdose and was miffed that the wait staff wasn't attentive to her and her guests:
"I will never go back to this location for New Year's Eve!!! After the way we were treated when we spent 700+ and having our meal ruined by watching a dead person being wheeled out from an overdose my night has been ruined!!! Every year we have come to Kilroys to enjoy New Years Eve and tonight we were screamed at and had the manager walk away from use while (we) were trying to figure out our bill being messed up.

The manager also told us someone dying was more important than us being there making us feel like our business didn't matter, but I guess allowing a Junkie in the building to overdose on your property is more important than paying customers who are spending a lot of money!! Our waitress when we were trying to ask about our bill being messed up also said "what do you want me to do (expletive) pay your bill for you?" What a great way to talk to a paying customer! I get that working on New Years Eve (is) stressful but being a complete (expletive) to us all night knowing you get an automatic gratuity is not right!!!"
Chris Burton, a manager at the bar, replied to the woman's post and clarified that the woman had not suffered a drug overdose but had a heart attack. He also offered some harsh words for the woman: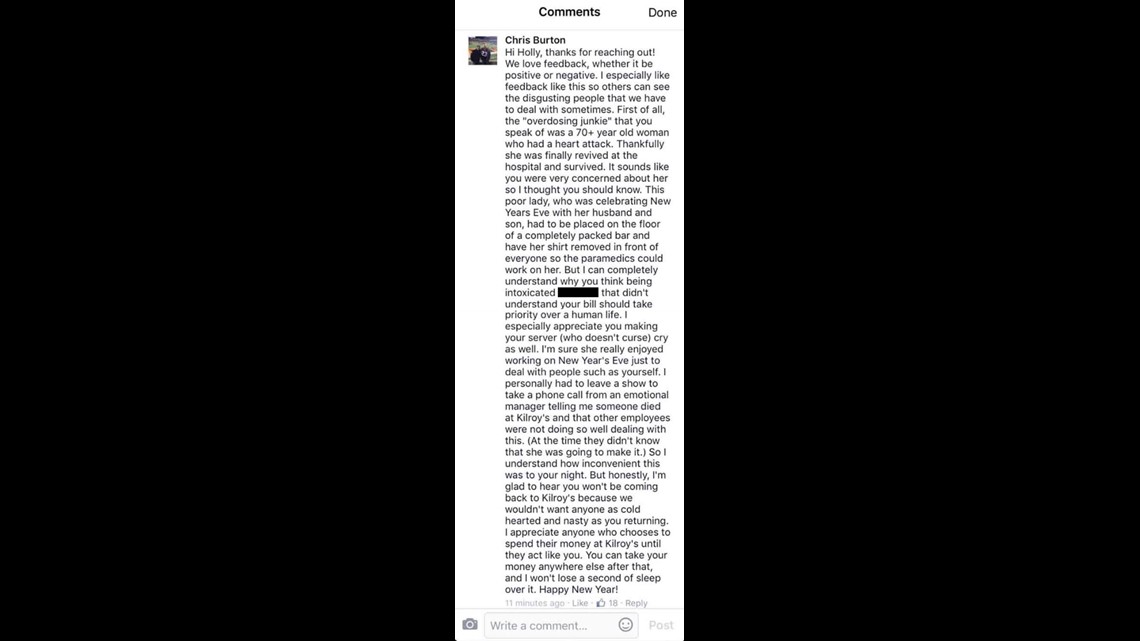 In a follow-up post, Kilroy's said the victim survived but still has a long way to go. They also set up a GoFundMe page and encouraged customers to support her recovery.
The bar said the original poster has removed her Facebook profile and discouraged customers who were apparently attempting to locate her.