BELLEFONTE, Pa. -- Jerry Sandusky, the former Penn State football coach convicted of child sex crimes, was sentenced Friday to 30 to 60 years in prison. That's the same sentence he received in 2012.
Sandusky was led into court Friday morning and when asked if he maintains his innocence, he said, "absolutely."
The prosecutor told the judge that Sandusky's victims did not want to put themselves through the trauma of being in court, but several of them sent statements which were read in court.
The man known as victim one said, "There are no words to describe the pain he has inflicted in my past, present, and future."
Sandusky also addressed the court saying no one will ever be able to take away what is in his heart.
"I apologize that I'm unable to admit remorse for something that I didn't do," Sandusky said.
His attorneys told the judge Sandusky has health problems but would not elaborate on that to Newswatch 16. Attorney Al Lindsay says he is disappointed but not surprised about the sentence.
"This is the worst injustice in the history of American jurisprudence. It's awful and I'm hopeful. I'm a believer in our judicial system, so when you get into one of these situations, we keep fighting it," Lindsay said.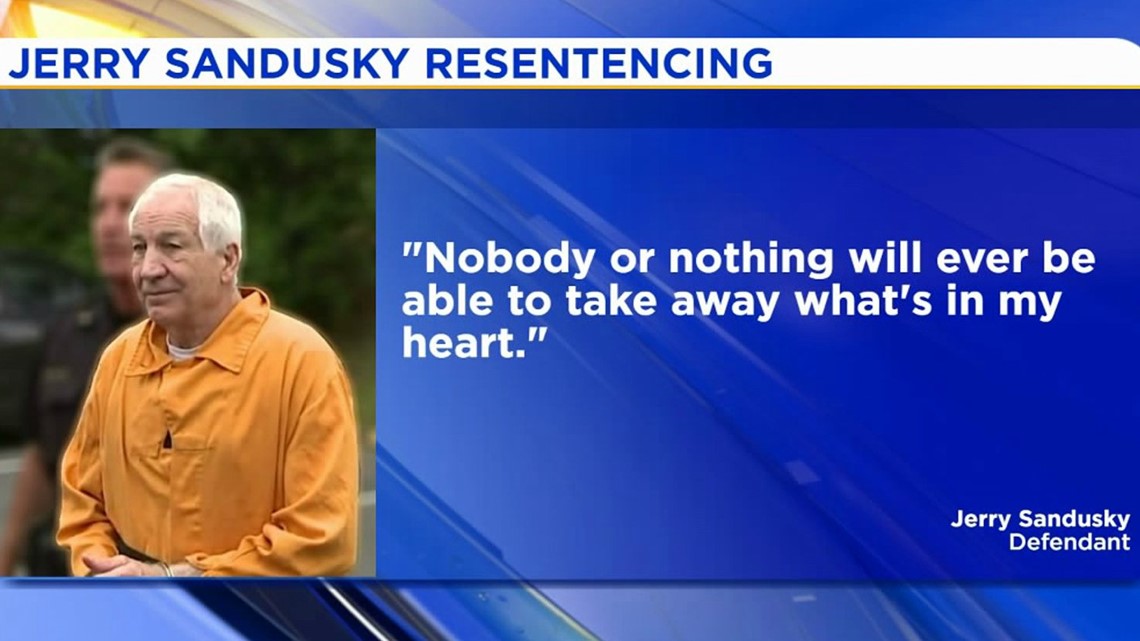 In October of 2012, a judge sentenced Sandusky to 30 to 60 years in prison. An appeals court ruled Sandusky was sentenced originally under an improper mandatory minimum. The Pennsylvania Supreme Court denied his request for a new trial.